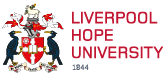 Careers and Employability
At Liverpool Hope, we want our students to have the best possible chance to embark on stimulating, rewarding and successful careers.
Online Resources
My Careers Centre is full of online resources to help you develop a career plan. Whatever stage you're at there are tasks, activities and quizzes to make the most of your free time. Practice psychometric tests, build a CV or search for opportunities.
You can also find the Service and Leadership Award on My Careers Centre. If you're volunteering as part of a city or NHS scheme or if you're just helping vulnerable neighbours and family in this difficult time, you could be earning enough hours to complete the award. There are a few tasks to complete, including watching some online sessions, but it couldn't be easier to get a recognised award while you make a difference to your community.
Your career path isn't about what year you're in at Hope, it's about your journey from student to professional. So, whether you have everything mapped out or you don't know where to start, our comprehensive Careers and Employability Service will make sure you have the right information, advice and opportunities from your first day until 3 years after you graduate.
Watch Our Video