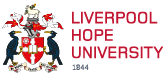 Current Students
Degree certificate
Formal University certificates are produced on bespoke paper with enhanced security features added and are the common format accepted by employers, educational institutions and immigration agencies as supporting documentation.
Your certificate will be provided to you free of charge when you graduate, either on the day of your ceremony if you graduate in person, or sent by post if you elect to graduate in absentia. Certificates are also provided free of charge and posted to those students awarded a Diploma or Certificate of Higher Education, or a Postgraduate Diploma or Certificate.
Higher Education Achievement Report (HEAR)
From 2014, graduates completing a degree with Liverpool Hope University will automatically be issued with an electronic Higher Education Achievement Report. Your HEAR Report will be emailed to you using your hope email account within six weeks of the date of your graduation ceremony. (Your email account will normally remain active for approximately six months after your graduation).
The HEAR is an official paper document (extended degree transcript) which details your academic achievements, including your overall subject marks for all formal assessments you have undertaken and your aggregate marks for each course. It will provide information about your programme of study and additional achievements such as any scholarship or prizes you were awarded and any additional courses you took, such as the Service Leadership Award.
You can share your HEAR with prospective employers and with other Higher Educational Institutions.