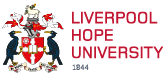 ERASMUS+
Liverpool Hope is committed to the exchange of staff and students under the ERASMUS+ Programme. Whether you would like to study for a semester or a full year, and whether you're from a partner university or are just interested in Liverpool Hope, we have an option for you!
Incoming Exchange
If you are a student who is looking to attend Liverpool Hope for an exchange period from a partner university please see our Incoming Exchange pages to get more information.
Outgoing Exchange
For current Liverpool Hope students who would like to take part in the Outgoing Exchange Programme please see the Outgoing Exchange pages for more information.
Staff Exchange
Staff can see how the can take part in ERASMUS by visiting the Staff Erasmus pages.
Policies & Documents