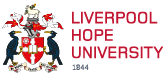 Study Abroad
Based in a thriving student city and with traditional education values at the core of our community, Liverpool Hope offers courses from a wide range of subjects in sciences, humanities, education, sport and the creative and performing arts. Join us and see the world from a different perspective!
STUDY ABROAD/EXCHANGE ARRIVAL DAY - FALL 2023
Arrival Day is Friday 22nd September 2023. If you would like an airport transfer, please book a flight to Manchester International Airport or Liverpool John Lennon Airport. If you are arriving independently, go straight to Aigburth Park, St Michael's Road, Liverpool L17 7JQ
STUDY ABROAD/EXCHANGE ARRIVAL DAY - SPRING 2024
Arrival Day is Wednesday 3 January 2024.
The programs
The Fall Semester - 12 weeks from September to December

The Spring Semester - 12 weeks from January to March

The Double Semester - 27-weeks from September to March

The Full Year bachelor option - participation in one of our Ba or BSc degrees - 39 weeks from September to June.
You can read more in the Study Abroad and Exchange Guide


The Study Abroad process
There are six pre-arrival stages to Study Abroad - please follow the links below in the correct order:
Stage 1 - Check your eligibility below
Stage 2 - Make an application at How to Apply for Study Abroad
Stage 3 - After receiving your Offer, apply for your room at Study Abroad Accommodation
Stage 4 - Select your courses and complete the Course Selection Form at How to Create your Study Plan
Stage 5- Check your immigration status and whether you need a Visa at Immigration and Visas
Stage 6 - Pay your Fee Package before you travel - see the Fees and Payments page.
Pre-arrival advice
We will send you pre-arrival information by email. You can also read further information at Information for International Students.
Study Abroad program content
As well as your timetabled teaching weeks, you will benefit from a welcome and orientation program and a two night residential trip. There are several compulsory extra-curricular activities, such as the Certificate in Service and Leadership and a Poster Conference, plus optional day trips. Find out how the programme is designed.
Entry requirements
You should normally be a registered undergraduate student at a university or college with good academic standing and have:
a minimum cumulative GPA of 3.0 ('B' average) or results of an equivalent standard (please provide your latest official transcript)
one academic letter of reference from your home institution - this must be from your Professor
English language at IELTS 6.5 or equivalent
It is expected that you will normally be studying with us in your Sophomore or Junior year, but students in other years will also be considered.
Applying from a partner university
If you are studying with one of our overseas partners, you should discuss your interest in studying at Liverpool Hope with your university's study abroad advisor. The advisor will help you to check that we can offer the courses you need to transfer credits back for your degree - if you are both happy, the advisor will nominate you to us.
At the application stage, we require a scan of your most recent official transcript - please send it, or ask your advisor to send it, to globalcentre@hope.ac.uk.
Applying from a non-partner university
If you are not studying with one of our overseas partners, we can accept an independent application from you if you are studying on a full degree programme, subject to you meeting the minimum entry requirements and supplying a letter of consent from the International Office at your home university.
Please contact us at globalcentre@hope.ac.uk to discuss your requirements. If we feel that we can offer you the courses you need for your degree, we will give you the go ahead to apply.
If you are unsure whether your current university or college is an overseas partner of Liverpool Hope University, please check with your Study Abroad advisor or email us at globalcentre@hope.ac.uk and we can confirm for you.
Cancelling a place on the program
If you cancel after you have been nominated but before receiving the offer letter, you can cancel without paying any fees.
If you cancel after receiving the offer letter, charges may apply, depending on the reason for the cancellation.
If you cancel after accepting the accommodation contract, the £200 room deposit is not refundable.
FAQs
If you have a question about studying abroad, please visit our Frequently Asked Questions page.
For enquiries, please email globalcentre@hope.ac.uk.