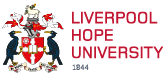 How to apply for Study Abroad
We want your university adventure to start as soon as possible, so we strive to make the application process as quick and easy as possible.
Application process
This section provides everything you need to make your application. If you have any questions, please contact us at globalcentre@hope.ac.uk.
After you have been nominated by your home University/College (or have self-nominated), we will ask you to complete the application linked below. We will send you an offer letter by email after the application deadline (see below). If you need a confirmation of study beforehand, please let us know and we will do the needful.
The application form and course selection form are electronic documents. The only documents we need you to send us by mail is your transcript and the photo page of your passport - please send these to globalcentre@hope.ac.uk.
Please be sure that we have the courses that you need, as it is unlikely that we will be able to add new courses specifically for you - you can check this at How to create your study plan.
The application form
Please complete this application if you have received an email from us inviting you to apply:
After you have applied, we will contact you prior to your arrival about the following:
Application deadlines
Fall, double and full year programs starting September 2023
nominations by partner by 30 April 2023
applications to be completed by 15 May 2023
Spring program starting January 2024
nominations by partner by 14 October 2023
applications to be completed by 1 November 2023