Educational Leadership(MBA)
Duration: 12-15 months (full-time) / up to 24 months (part-time)
|
Hope Park
|
Start month: October 2021
Accreditation
|
International students can apply
Overview
Curriculum
Entry Requirements
Teaching & Research
Careers
Finance
ABOUT THE COURSE
The MBA Educational Leadership is delivered through a partnership between the Business School and the Faculty of Education.
The overall aim of the MBA Educational Leadership is to enable participants, through the development of their management and leadership capabilities, to assist or direct organisations to become more effective and efficient in a rapidly changing, complex and global economy.
The programme has been designed specifically for experienced professionals working in education in the public, private and not-for-profit sectors in the UK and abroad and aims to maximise the potential of candidates who already have significant work experience and who have the capability and ambition to advance to the highest level.
The MBA Educational Leadership programme provides students with the opportunity to develop as a strategic thinker, a leader of learning and educational improvement, and a manager of resources, exploring important national and international debates in and around educational reform, leadership, teaching and learning.
Why do this course?
Focus on changes and challenges with the education sector.
The opportunity to work with leaders and managers in preparation for current challenges and future environments.
Focus closely on your current role to enhance your capabilities, improve your existing practices, implement new initiatives and enhance your personal effectiveness.
The teaching and skilled facilitation offered by a programme team with a long history of working with education and business leaders from a variety of contexts.
The opportunity for networking and knowledge exchange.
Intensive group study and masterclasses with leading practitioners and scholars.
ACCREDITATION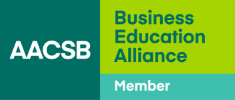 AACSB International is the longest-serving accrediting body for business schools, and the largest business education network connecting students, educators, and businesses worldwide. It provides internationally recognized, specialized accreditation for business and accounting programs at the bachelor's, master's, and doctoral level.
Only 5% of institutions across the word offering business degrees at the bachelor's level or higher have earned this accreditation, with Liverpool Hope being one of them.
Curriculum Overview
Phase 1: Business Strategy (60 Credits)
The Business Environment
Company Capabilities
The Customer
Competitive Positioning
Successful completion of a National Professional Qualification in Executive Leadership (NPQEL) will allow students to apply for credit exemption against Phase 1: Business Strategy and enter straight onto Phase 2 of the MBA Educational Leadership.
Phase 2: Educational Business Administration (60 credits)
Critical Perspectives on Accountability and Evidence in Education (15 credits)
Business Economics (15 credits)
Leadership in Theory and Practice (15 credits)
Human Resources Management in Context (15 credits)
Phase 3: Research Phase (60 credits)
Business Research Methods and Consultancy Project/Dissertation
Entry Requirements
Normally a First Class or Upper Second Class Honours Degree in a relevant discipline.
Applicants will need at least 2 years managerial/supervisory work experience for entry on to this course.
Applications from students who do not hold a 1st or 2:1 Honours Degree (or equivalent) may be asked to demonstrate potential to achieve a Masters award via a sample of academic writing and interview before an offer is made.
International Entry Requirements
For students whose first language is not English there is a language requirement of IELTS 6.5 overall with 6.0 minimum of all components.
In addition to this, we also accept a wide range of International Qualifications.
Teaching and Research
Delivery for each 15 credit module/topic will be on a part-time basis, via a 2 day intensive programme (Friday and Saturday).
A dedicated Virtual Learning Environment (VLE) is an essential feature of the programme, including discussion forums.
Tutorials may be accessed at a distance through email, telephone or Skype.
UK/EU Tuition Fees
Full Cost: £10,500
Students that have successfully completed an NPQEL may access the MBA Educational Leadership for £7,600.
Funding
We offer a number of scholarships and loans to help fund your postgraduate studies. Visit our scholarships pages for more details.
INTERNATIONAL TUITION FEES
The International tuition fees for courses starting in the 2021/22 academic year are £11,400 per year.
If you are an international student, visit our international scholarships pages.