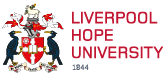 Dr Elizabeth Parr
SENIOR PROFESSIONAL TUTOR
Initial Teacher Education
0151 291 3359 .
parre@hope.ac.uk

Prior to working at Liverpool Hope University, I worked in primary schools in Spain, Manchester and Liverpool across key stages one and two. In these roles, I was a subject leader and worked as one of the lead teachers implementing the Communication, Language and Literacy Development Programme. In April 2013, I joined the Primary English Team for Initial Teacher Education at Liverpool Hope and as a senior professional tutor I am involved in the curriculum development and delivery of the BA (QTS) and PGCE curriculum English. I am also Head of the MEd (QTS) programme in the School of Teacher Education.
Qualifications: Doctorate in Education, MA Education, PGCE Primary, BA English Language and Literature, Fellow of the Higher Education Academy (FHEA), British Educational Research Association Early Career Researcher Presentation Prize.
Research Interests: The research I am currently conducting focuses on the development of professionals' perceptions towards community-oriented schooling. Alongside this, my recent research includes investigating the impact of SureStart centres on children's early education, mapping a range of approaches to community-oriented schooling and the use of Q Methodology in educational research.