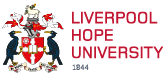 Miss Natalie Dermott
CREATIVE CAMPUS SCHOOLS MANAGER
Creative and Performing Arts Admin Office
0151 291 3655 .
dermotn@hope.ac.uk

I am the Creative Campus School Manager a post that involves working alongside the Associate Dean and academic, support and technical staff to ensure that the School of Creative & Performing Arts achieves its strategic vision. This will be achieved through striving for excellence of service in all academic activities, the student life cycle, finance, people management, marketing, communications, estates and IT support.
I studied BA Business Studies at Leeds Beckett University (formerly Leeds Metropolitan University) and I am a Fellow of the CIPD. I started work in the Higher Education Sector in 2015. Prior to this I worked in a number of different sectors including that of health, private and local government in a variety of operational and HR roles.
I am passionate about developing the School of Creative & Performing Arts and it is very exciting time to work at the Creative Campus due to the ongoing investment and vast amount of developments taking place all around us. A major part of my role is to work in partnership with the Associate Dean to oversee these developments.
I am a very active individual and enjoy keeping fit and spending time with with family and friends outside of work. I also have been known to play a variety of musical instruments when I was younger including the violin, cello, clarinet and piano and have also danced at the Liverpool Empire.