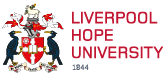 Business Management and Special Educational Needs BA (Hons) (with Foundation Year)
UCAS Code: NX22|Duration: 4 years|Full Time|Hope Park
UCAS Campus Code: L46
Work placement opportunities|International students can apply
The world of Business Management is fast-moving and dynamic: Business organisations are facing unprecedented change and complex challenges both within the UK and globally. This demands that students who enter the business sector understand the dynamics of the business environment and how organisations operate in increasingly uncertain situations. The Business Management degree at Liverpool Hope University examines small to medium-sized enterprises to global multi-national companies – public, private, not-for-profit with a focus on business principles, organisational dynamics and management processes.
Liverpool Hope Business School holds the prestigious AACSB accreditation and has an enviable reputation for developing students with sound theoretical principles, thorough understanding of contemporary business practices and informed by the latest research. The links we have with local and national businesses, plus links with professional bodies, ensure you are well prepared for the world of work.
This in-depth degree gives you the opportunity to understand how businesses operate and the ethical and social impact they have on communities. An experienced, student-focused team will develop your understanding of this business context and develop the critical business skills and transferable skills that future employers will demand.
For more details and information about this course visit:
Business Management
The Special Educational Needs course will equip you to become a passionate advocate for disability rights and equality in your chosen profession. There are 14.6 million disabled people in the UK, and graduates with expertise in special educational needs and disability are in demand in a wide range of areas including education, health, social work and social care, local government, and business.
A supportive team of disabled and non-disabled academics will enable you to develop the skills, knowledge and confidence you need to become a future leader in this area. You will learn about the historical, social and cultural factors that shape our understanding of special educational needs and disability. Your understanding of academic theories and models will be deepened by activities which challenge you to explore how this knowledge can be applied in professional settings. As well as tutors' extensive professional experience, course content is informed by input from a range of guest speakers, and from our partner organisations, which include disabled-led and self-advocacy groups, education and care providers, charities, and disability arts organisations.
The Special Educational Needs course at Liverpool Hope is unique in that it is informed and enriched by the work of the Centre for Culture and Disability Studies, an internationally recognised centre of excellence in disability studies research, and the only UK research centre to focus on disability and culture.
For more details and information about this course visit:
Special Educational Needs