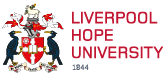 Creative Writing and Sport & Exercise Science BA
UCAS Code: CW11|Duration: 3 years|Full Time|Hope Park
UCAS Campus Code: L46
Work placement opportunities|International students can apply
Creative Writing at Liverpool Hope will give you the chance to experience the joys of crafting the written word. The degree focuses on developing you as a writer of poetry and prose (fiction and creative non-fiction), across the broad field of literature (poems, short stories, novels, reflective and critical essays). Professional writing - reviews, blogs and articles for different kinds of media - is also studied. Our focus on creativity and employability means you will be able to produce engaging, innovative and marketable texts.
By studying Creative Writing, you will be empowered with an enhanced command of your craft, increased confidence in expressing your thoughts and emotions, an understanding of the values that inform your writing practice, and the technical skillset to deliver your work to various audiences. Your writing will be enhanced by studying under leading published writers and academics, and you will develop a range of workplace skills to prepare for fulfilling careers.
The degree will often challenge you and ask you to reach beyond your own experience and interests into those of contemporary and historical communities. Using these as creative stimuli, you will be required to reflect upon social contexts, power, and how truth and justice can be communicated or miscommunicated through creative writing. By the end of the degree, you should have a wide appreciation of forms, genres and applications. Included in the degree are field trips which provide material for writing exercises as well as widening your student experience.
For more details and information about this course visit:
Creative Writing
Studying Sport and Exercise is a gateway to understanding how to maximise sports performance, how we learn skills and the importance of regular exercise to health and longevity. You will study from a multidisciplinary perspective, focusing on psychology, physiology, biomechanics, performance analysis, nutrition and strength & conditioning. By the end of your studies you will confidently and independently develop training programmes and interventions that will promote peak performance, the learning of new skills and reduce the burden of disease.
Study with us in our multi-million pound, state-of-the-art Health Science Building and Sports Complex, incorporating dedicated teaching laboratories and research space. This facility houses ultra-modern equipment where you will learn to conduct complete physiological, psychological and biomechanical profiles of human sports performance using breath-by-breath expired gas analysis, blood analysis, vascular and cardiac screening, body composition analysis, eye-tracking, electromyography and motion capture to name but a few.
You will leave with the skills to become a sports scientist working with elite performers or clinical populations, the basis to become a sports coach, or enter the teaching profession and train the next generation of sport scientists. You will be taught by tutors who are active researchers at the cutting edge of Sport & Exercise Science, and whom regularly publish their work to international audiences.
For more details and information about this course visit:
Sport & Exercise Science