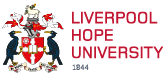 Digital Creativity and Economics (with Foundation Year)
UCAS Code: DC24|Duration: 4|Full Time|Hope Park
UCAS Campus Code: L46
Work placement opportunities|International students can apply
This course will educate students towards creating work that bridges the gap between traditional creative practices and their modern technologically facilitated counterparts from gaming, to graphic design to music and dance. It responds to the continuing appropriation of emerging digital technologies by artists with the aim of discovering new approaches for creative expression, often referred to under the umbrella term 'Creative Convergence'. The course responds to the teaching and research interests of staff within the subjects of Music, Performance and Visual Arts, as well as colleagues in the areas related to Computer Science. You will learn how to use a variety of technologies and realise assessed projects; these may include motion capture, haptic feedback, interaction design, data sonification & visualisation, animation & sound design, and coding/scripting in relevant languages strictly for creative output. The practical seminars will act as laboratories to experiment with these technologies and enhance your skillsets, working towards a signature practice that primes them for the digital creative sector. The lectures provide a theoretical basis for you to critically position your work, further developed through student-led discussions in tutorials. The lecture content also informs the seminars, ensuring you are able to perceive the practical application of these ideas. In your first year of study, you will be introduced to the key practitioners and practices who demonstrate the ways digital technologies enrich the creative potential of traditional art forms.
For more details and information about this course visit:
Digital Creativity
This is an exciting time to study Economics: great ideological debates, policy decisions and technological changes are taking place that impact our lives, ranging from the direction of globalisation and international trade and trade restrictions, to trends in economic inequality, the environment and climate change, the gender pay-gap, migration flows, economic integration, financial crises, and the challenges posed by the recent Covid-19 crisis..
Our Economics programme will delve in to an in-depth study of real economic issues like the above, based on a solid foundation of an eclectic economic theory, and an understanding of how economic policy is formulated. This will enable students to gain the analytical and critical evaluation skills needed to recognise how national and global issues affect a society's welfare.
The course is designed to provide students with the experience, knowledge and skills needed to succeed in the job market, by putting a strong emphasis on analytical, quantitative and research skills highly valued by employers. It will also develop a student's ability to apply the concepts, theories and quantitative methods to business and public policy decisions, in a diverse range of settings. As we believe your ability to gain meaningful employment after you graduate is really important, there is also a strong focus on helping you to develop your more general and transferable employability skills.
In this course, students will study a range of areas, including Quantitative Methods, Econometrics, Intermediate Micro and Macroeconomics, History of Economic Thought, Banking & Finance, and International Economics and Finance.
For more details and information about this course visit:
Economics