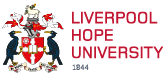 Digital Creativity and History (with Foundation Year)
UCAS Code: DC36|Duration: 4|Full Time|Hope Park
UCAS Campus Code: L46
Work placement opportunities|International students can apply
This course will educate students towards creating work that bridges the gap between traditional creative practices and their modern technologically facilitated counterparts from gaming, to graphic design to music and dance. It responds to the continuing appropriation of emerging digital technologies by artists with the aim of discovering new approaches for creative expression, often referred to under the umbrella term 'Creative Convergence'. The course responds to the teaching and research interests of staff within the subjects of Music, Performance and Visual Arts, as well as colleagues in the areas related to Computer Science. You will learn how to use a variety of technologies and realise assessed projects; these may include motion capture, haptic feedback, interaction design, data sonification & visualisation, animation & sound design, and coding/scripting in relevant languages strictly for creative output. The practical seminars will act as laboratories to experiment with these technologies and enhance your skillsets, working towards a signature practice that primes them for the digital creative sector. The lectures provide a theoretical basis for you to critically position your work, further developed through student-led discussions in tutorials. The lecture content also informs the seminars, ensuring you are able to perceive the practical application of these ideas. In your first year of study, you will be introduced to the key practitioners and practices who demonstrate the ways digital technologies enrich the creative potential of traditional art forms.
For more details and information about this course visit:
Digital Creativity
The study of History helps you to understand how individuals, communities and societies have lived in the past and how those past experiences have helped to shape the present world. History helps us make sense of our world and understand what may lie ahead because the future is shaped by its history in so many ways. Our History degree gives you the opportunity to study a wide-range of historical periods from the Early Modern period to more recent contemporary historical events.
You will engage with a wide variety of historical evidence throughout the whole of your degree programme. History at Liverpool Hope is part of the supportive and friendly environment within the subject areas of History, Politics and International Relations. You will benefit from being taught by a team of recognised scholars, who have published widely in their fields and who are dedicated and experienced teachers.

Throughout your degree, you will be able to take advantage of the rich library, archival, museum and heritage resources available in Liverpool and further afield. Working with the resources of the many Liverpool museums forms an important part of your learning experiences. The History team run a range of fieldwork activities every year in the local area and beyond, and offers the opportunity for study visits to major European cities on an annual basis.
For more details and information about this course visit:
History