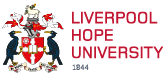 Digital Creativity and International Relations
UCAS Code: DC41|Duration: 3 years|Full Time|Hope Park
UCAS Campus Code: L46
Work placement opportunities|International students can apply
This course will educate students towards creating work that bridges the gap between traditional creative practices and their modern technologically facilitated counterparts from gaming, to graphic design to music and dance. It responds to the continuing appropriation of emerging digital technologies by artists with the aim of discovering new approaches for creative expression, often referred to under the umbrella term 'Creative Convergence'. The course responds to the teaching and research interests of staff within the subjects of Music, Performance and Visual Arts, as well as colleagues in the areas related to Computer Science. You will learn how to use a variety of technologies and realise assessed projects; these may include motion capture, haptic feedback, interaction design, data sonification & visualisation, animation & sound design, and coding/scripting in relevant languages strictly for creative output. The practical seminars will act as laboratories to experiment with these technologies and enhance your skillsets, working towards a signature practice that primes them for the digital creative sector. The lectures provide a theoretical basis for you to critically position your work, further developed through student-led discussions in tutorials. The lecture content also informs the seminars, ensuring you are able to perceive the practical application of these ideas. In your first year of study, you will be introduced to the key practitioners and practices who demonstrate the ways digital technologies enrich the creative potential of traditional art forms.
For more details and information about this course visit:
Digital Creativity
Every day, international issues are in the news headlines – this is your chance to become an expert on relations between states, economies, ideas and societies. In a world where nuclear weapons remain primed for use, the world economy teeters on the brink of collapse and delicate ecosystems are under threat, it is little wonder that our International Relations degree is proving a popular choice among students who wish to better understand the world's most challenging problems.
International Relations is a multidisciplinary subject, which draws in contributions from politics, history, media, sociology, law, economics and religion. Global issues dominate the news headlines on a daily basis and International Relations will allow you to focus on this dimension of politics. This is an opportunity to become an expert in international issues in a historical, political and cultural context.
All our academics are conducting internationally published research. Our key strengths are in Theories of International Relations; Peace and Conflict; British and US foreign policy and EU and UN politics. Our subject deals squarely with some of the most daunting, intractable but important challenges of today.
For more details and information about this course visit:
International Relations