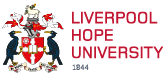 Digital Creativity and Mathematics
UCAS Code: DC47|Duration: 3 years|Full Time|Hope Park
UCAS Campus Code: L46
Work placement opportunities|International students can apply
This course will educate students towards creating work that bridges the gap between traditional creative practices and their modern technologically facilitated counterparts from gaming, to graphic design to music and dance. It responds to the continuing appropriation of emerging digital technologies by artists with the aim of discovering new approaches for creative expression, often referred to under the umbrella term 'Creative Convergence'. The course responds to the teaching and research interests of staff within the subjects of Music, Performance and Visual Arts, as well as colleagues in the areas related to Computer Science. You will learn how to use a variety of technologies and realise assessed projects; these may include motion capture, haptic feedback, interaction design, data sonification & visualisation, animation & sound design, and coding/scripting in relevant languages strictly for creative output. The practical seminars will act as laboratories to experiment with these technologies and enhance your skillsets, working towards a signature practice that primes them for the digital creative sector. The lectures provide a theoretical basis for you to critically position your work, further developed through student-led discussions in tutorials. The lecture content also informs the seminars, ensuring you are able to perceive the practical application of these ideas. In your first year of study, you will be introduced to the key practitioners and practices who demonstrate the ways digital technologies enrich the creative potential of traditional art forms.
For more details and information about this course visit:
Digital Creativity
Mathematics is a fascinating and exciting subject. It is the language of modern Business and Commerce, Engineering, Science and Technology and is as old as mankind. As the universal language of science it is the best tool we have to describe reality. At Liverpool Hope, you will develop a passion and enthusiasm for mathematics and its applications. Mathematics encompasses many analytical and numerical methods that are used to solve scientific and industrial problems.
Mathematics at Liverpool Hope has been designed to help you develop strong analytical and numerate abilities and skills so that you learn how to look at problems, break them down into simpler questions and then solve them. Mathematics at Liverpool Hope can be taken as a single honours degree or a combined honours degree with a related subject.
The degree will cover all areas of mathematics including pure mathematics, applied mathematics and statistics. By the end of the degree, you will be confident in tackling real world problems mathematically. By studying with us, you can expect to be given not only first class tuition and teaching, but first class support. We pride ourselves on providing an excellent student experience, and the tutors at Liverpool Hope work hard to ensure that you get the most from your degree.
For more details and information about this course visit:
Mathematics