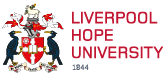 Digital Creativity and Sport & Exercise Science
UCAS Code: DC63|Duration: 3 years|Full Time|Hope Park
UCAS Campus Code: L46
Work placement opportunities|International students can apply
This course will educate students towards creating work that bridges the gap between traditional creative practices and their modern technologically facilitated counterparts from gaming, to graphic design to music and dance. It responds to the continuing appropriation of emerging digital technologies by artists with the aim of discovering new approaches for creative expression, often referred to under the umbrella term 'Creative Convergence'. The course responds to the teaching and research interests of staff within the subjects of Music, Performance and Visual Arts, as well as colleagues in the areas related to Computer Science. You will learn how to use a variety of technologies and realise assessed projects; these may include motion capture, haptic feedback, interaction design, data sonification & visualisation, animation & sound design, and coding/scripting in relevant languages strictly for creative output. The practical seminars will act as laboratories to experiment with these technologies and enhance your skillsets, working towards a signature practice that primes them for the digital creative sector. The lectures provide a theoretical basis for you to critically position your work, further developed through student-led discussions in tutorials. The lecture content also informs the seminars, ensuring you are able to perceive the practical application of these ideas. In your first year of study, you will be introduced to the key practitioners and practices who demonstrate the ways digital technologies enrich the creative potential of traditional art forms.
For more details and information about this course visit:
Digital Creativity
Studying Sport and Exercise is a gateway to understanding how to maximise sports performance, how we learn skills and the importance of regular exercise to health and longevity. You will study from a multidisciplinary perspective, focusing on psychology, physiology, biomechanics, performance analysis, nutrition and strength & conditioning. By the end of your studies you will confidently and independently develop training programmes and interventions that will promote peak performance, the learning of new skills and reduce the burden of disease.
Study with us in our multi-million pound, state-of-the-art Health Science Building and Sports Complex, incorporating dedicated teaching laboratories and research space. This facility houses ultra-modern equipment where you will learn to conduct complete physiological, psychological and biomechanical profiles of human sports performance using breath-by-breath expired gas analysis, blood analysis, vascular and cardiac screening, body composition analysis, eye-tracking, electromyography and motion capture to name but a few.
You will leave with the skills to become a sports scientist working with elite performers or clinical populations, the basis to become a sports coach, or enter the teaching profession and train the next generation of sport scientists. You will be taught by tutors who are active researchers at the cutting edge of Sport & Exercise Science, and whom regularly publish their work to international audiences.
For more details and information about this course visit:
Sport & Exercise Science