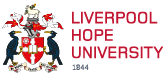 Drama and Geography BA
UCAS Code: DE02|Duration: 3 years|Full Time|Both Campuses
UCAS Campus Code: L46
Work placement opportunities|International students can apply
Explore performance in the heart of the city of Liverpool. Learn about the origins of drama and develop your skills in making new work.
Liverpool Hope's creative community is internationally renowned and world-leading in drama research and practice. You will develop your acting skills, your ability to facilitate drama sessions, as well as improving your critical writing skills. We make use of the many theatre venues in Liverpool, from the traditional Everyman/Playhouse to the experimental Tate Liverpool as well as our own Capstone Theatre, several well-equipped studio theatre spaces dedicated for student use, and our very own Hope Theatre Company – of which you could play a part.
Throughout your time at Liverpool Hope, you will be asked to explore drama in relation to your own skills and interests, helping you to understand the critical place of drama in the 21st-century. Our motto is to 'educate in the round', meaning you will develop transferrable social skills to take to future employers and make a difference in the workplace.
Hear from student Ella Roberts about what it's like to study Drama at Hope.
For more details and information about this course visit:
Drama
Geography is about exploring, encountering and engaging with the world around us. It is a dynamic and exciting subject to study. It looks at how the physical world works; how people interact both with each other and with the physical world; how landscapes (both physical and human) evolve; and the ways in which the environment needs to be conserved and managed. Geography covers many different perspectives and brings them together to create a distinctive way of understanding the world. Whether your interests are more towards physical, environmental or human geography, our degree offers you the chance to develop an integrated, enriched understanding of what is taking place on our planet.
Studying Geography means you will look at a wide range of different topics and learn a broad range of skills. For this reason, a Geography degree is one of the most valued subjects among potential employers.
An enthusiastic and friendly team of geographers and environmentalists with wide research interests teach Geography at Hope. You will find that Liverpool is a great place to study Geography, being an excellent case study of economic, environmental and social regeneration, and having surroundings that include stunning upland and coastal landscapes.
A Placement Year option is available for this course. Undertaking a placement year as part of your degree programme offers you the opportunity to gain valuable work experience alongside your studies.
For more details and information about this course visit:
Geography