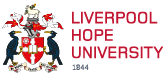 Criminology and Economics
UCAS Code: CC13|Duration: 3 years|Full Time|Hope Park
UCAS Campus Code: L46
Work placement opportunities|International students can apply
Crime and how to deal with it are amongst the most significant and contentious issues of our time, so it is vital that we understand this subject. Criminology is the study of crime, its causes and effects, and what we do about it. At Liverpool Hope University, you will study how crime is defined and who defines it, why some people commit offences, and what happens to those who commit crimes if they are caught.
Criminology also studies the impact of the various agencies and organisations that deal with crime: the police, the courts, the probation and prison services, as well as the role of the Ministry of Justice and the Home Office. Studying Criminology enables you to focus on questions such as 'is criminal behaviour learned or inherited?' and 'why are some actions defined as criminal and not others?'; 'what is the purpose of punishment and to what extent does it deter criminal behaviour?'
Criminology is a well-established degree at Liverpool Hope and is taught by staff with considerable experience at national and international level. Several key criminological textbooks are written by members of the School. The Criminology team is enthusiastic and dedicated and will help you to get the most out of your degree. Criminology is heavily focused on justice - how it is delivered, to whom, by whom and whether or not it is effective. This reflects Liverpool Hope's commitment to social justice both nationally and internationally.
For more details and information about this course visit:
Criminology
This is an exciting time to study Economics: great ideological debates, policy decisions and technological changes are taking place that impact our lives, ranging from the direction of globalisation and international trade and trade restrictions, to trends in economic inequality, the environment and climate change, the gender pay-gap, migration flows, economic integration, financial crises, and the challenges posed by the recent Covid-19 crisis..
Our Economics programme will delve in to an in-depth study of real economic issues like the above, based on a solid foundation of an eclectic economic theory, and an understanding of how economic policy is formulated. This will enable students to gain the analytical and critical evaluation skills needed to recognise how national and global issues affect a society's welfare.
The course is designed to provide students with the experience, knowledge and skills needed to succeed in the job market, by putting a strong emphasis on analytical, quantitative and research skills highly valued by employers. It will also develop a student's ability to apply the concepts, theories and quantitative methods to business and public policy decisions, in a diverse range of settings. As we believe your ability to gain meaningful employment after you graduate is really important, there is also a strong focus on helping you to develop your more general and transferable employability skills.
In this course, students will study a range of areas, including Quantitative Methods, Econometrics, Intermediate Micro and Macroeconomics, History of Economic Thought, Banking & Finance, and International Economics and Finance.
For more details and information about this course visit:
Economics