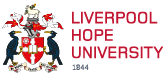 Film & Visual Culture and Geography BA (Hons) (with Foundation Year)
UCAS Code: FG68|Duration: 4 years|Full Time|Both Campuses
UCAS Campus Code: L46
Work placement opportunities|International students can apply
If you want an exciting career in the creative industries, but also want to understand the role that Film and Visual Culture plays in wider society, studying at Liverpool Hope is the right choice for you. Film and Visual Culture is an intellectually stimulating degree that combines practice and theory, giving you the opportunity to both create and analyse a range of cultural texts - from fiction film and documentary, to photography and animation.
This degree is underpinned by creative and critical practice. It is creative because it gives you the opportunity to develop practical skills in the fields of screenwriting, filmmaking (drama and documentary), photography and animation. It is critical because it involves the in-depth study of film history and theory, including the way in which cinema intersects with a range of social and political issues. You will graduate with a degree underpinned by academic rigour, but with the transferable skills needed to pursue a wide variety of careers in the creative industries.
The degree is taught by leading international scholars and practitioners and you will also benefit from access to outstanding library resources and an extensive range of practical equipment and studio space. Extra curricula activities support the curriculum by widening critical and creative horizons. Recent activities on the degree include fieldtrips to the National Science and Media Museum, Tate Britain, and the Manchester Animation Festival. We also have regular group visits to local film screenings.
- Study in the most filmed-in city in the country outside London.
- Our local partners include FACT, one of the leading independent cinema venues in the North West.
Hear from student Hannah Guzman Gonzalez on what it's like to study Film & Visual Culture at Hope.
For more details and information about this course visit:
Film & Visual Culture
Geography is about exploring, encountering and engaging with the world around us. It is a dynamic and exciting subject to study. It looks at how the physical world works; how people interact both with each other and with the physical world; how landscapes (both physical and human) evolve; and the ways in which the environment needs to be conserved and managed. Geography covers many different perspectives and brings them together to create a distinctive way of understanding the world. Whether your interests are more towards physical, environmental or human geography, our degree offers you the chance to develop an integrated, enriched understanding of what is taking place on our planet.
Studying Geography means you will look at a wide range of different topics and learn a broad range of skills. For this reason, a Geography degree is one of the most valued subjects among potential employers.
An enthusiastic and friendly team of geographers and environmentalists with wide research interests teach Geography at Hope. You will find that Liverpool is a great place to study Geography, being an excellent case study of economic, environmental and social regeneration, and having surroundings that include stunning upland and coastal landscapes.
A Placement Year option is available for this course. Undertaking a placement year as part of your degree programme offers you the opportunity to gain valuable work experience alongside your studies.
For more details and information about this course visit:
Geography