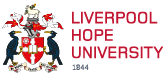 Mathematics and Social Policy BA (with Foundation Year)
UCAS Code: MM13|Duration: 4|Full Time|Hope Park
UCAS Campus Code: L46
Work placement opportunities|International students can apply
Mathematics is a fascinating and exciting subject. It is the language of modern Business and Commerce, Engineering, Science and Technology and is as old as mankind. As the universal language of science it is the best tool we have to describe reality. At Liverpool Hope, you will develop a passion and enthusiasm for mathematics and its applications. Mathematics encompasses many analytical and numerical methods that are used to solve scientific and industrial problems.
Mathematics at Liverpool Hope has been designed to help you develop strong analytical and numerate abilities and skills so that you learn how to look at problems, break them down into simpler questions and then solve them. Mathematics at Liverpool Hope can be taken as a single honours degree or a combined honours degree with a related subject.
The degree will cover all areas of mathematics including pure mathematics, applied mathematics and statistics. By the end of the degree, you will be confident in tackling real world problems mathematically. By studying with us, you can expect to be given not only first class tuition and teaching, but first class support. We pride ourselves on providing an excellent student experience, and the tutors at Liverpool Hope work hard to ensure that you get the most from your degree.
For more details and information about this course visit:
Mathematics
Social Policy explores the ways in which welfare provision is delivered in society, exploring who is eligible for support and who provides it. Our Social Policy degree is multidisciplinary in its approach and draws on ideas from sociology, economics, politics and geography. It explores issues such as inequality, ill health and wellbeing, child welfare, employment and unemployment, educational opportunities, disability, homelessness, family policies, mental health, globalisation, crime and immigration.
Studying Social Policy at Liverpool Hope University allows you to explore the answers to questions such as; should the state be the main provider of welfare and what roles should the private profit making or voluntary sectors have? How should scarce resources be allocated in society? How can we understand different approaches to welfare delivery across different historical periods in British society? Why do women and minority ethnic groups experience greater levels of disadvantage? How have welfare systems developed in different countries?
The degree draws on an experienced team of lecturers who are published in the social sciences and are experts in social policy. The School is also a member of the national network of Social Policy course providers and benefits from engagement with national subject debates. There are fieldtrips to enhance your learning, and we also have annual research days where leading academics, civil servants and politicians come to talk about various social problems and social issues.
For more details and information about this course visit:
Social Policy