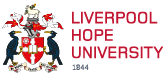 Information Technology and Philosophy & Ethics BA
UCAS Code: IL02|Duration: 3 years|Full Time|Hope Park
UCAS Campus Code: L46
Work placement opportunities|International students can apply
Information Technology is a rapidly changing and exciting subject. Organisations are increasingly relying on information technology to carry out key business functions. There is an explosion in the use of mobile devices to shop online and there is a high demand for skilled professionals who are able to effectively manage information systems. Well-designed software applications that are effective and usable is a crucial requirement for employers.
Our Information Technology degree prepares you to meet the needs of a wide range of organisations, emphasising the development of a variety of technologies, especially web and mobile technologies that are increasingly becoming a part of our everyday lives. During your studies, you will have opportunities to develop computational thinking and a systems approach to formulating, analysing and solving complex problems.
The degree is intellectually challenging and is taught by staff with a varied background and a diverse range of interests. Your student experience is enhanced by a rich curriculum that exposes you to multiple approaches to technological problems. Information Technology has a wide-reaching social impact, posing many ethical questions, and these issues are explored at various points during the degree.
For more details and information about this course visit:
Information Technology
Philosophy and Ethics explores the big questions of life and morality: on what basis do we judge things good or evil? It challenges you to examine your assumptions, opinions and worldview. Do we need to believe in God for life to have meaning – or have the arguments for the existence of God broken down? What does it mean to be human? Do we have free will, or is our life completely determined?
Through close attention to the primary texts of philosophers such as Plato, Aquinas, Descartes, Hume, Kant and Nietzsche, our Philosophy and Ethics degree will help you learn to analyse and evaluate arguments, and to compose and communicate your own ideas in a reasoned way. You will have a grounding in the foundational questions of philosophy. As you progress, you will look in depth at philosophy of religion, political philosophy, applied ethics and issues of human personhood, artificial intelligence, ecology and animality.
The degree is taught by a core team of critical academics who are passionate about teaching and are internationally recognised researchers and writers. This degree will equip you with the intellectual skills and perspectives needed to face the ethical and ideological challenges of the contemporary world.
For more details and information about this course visit:
Philosophy & Ethics