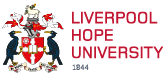 Business Management and Religious Studies BA
UCAS Code: BM09|Duration: 3 years|Full Time|Hope Park
UCAS Campus Code: L46
Work placement opportunities|International students can apply
The world of Business Management is fast-moving and dynamic: Business organisations are facing unprecedented change and complex challenges both within the UK and globally. This demands that students who enter the business sector understand the dynamics of the business environment and how organisations operate in increasingly uncertain situations. The Business Management degree at Liverpool Hope University examines small to medium-sized enterprises to global multi-national companies – public, private, not-for-profit with a focus on business principles, organisational dynamics and management processes.
Liverpool Hope Business School holds the prestigious AACSB accreditation and has an enviable reputation for developing students with sound theoretical principles, thorough understanding of contemporary business practices and informed by the latest research. The links we have with local and national businesses, plus links with professional bodies, ensure you are well prepared for the world of work.
This in-depth degree gives you the opportunity to understand how businesses operate and the ethical and social impact they have on communities. An experienced, student-focused team will develop your understanding of this business context and develop the critical business skills and transferable skills that future employers will demand.
For more details and information about this course visit:
Business Management
Religious Studies at Liverpool Hope explores the practice and significance of religion in contemporary society through the study of Christianity, Judaism, Islam, African religious traditions, and Indic traditions such as Buddhism and Hinduism. A balance between the study of religious texts and lived religion in the contemporary world is maintained throughout the degree. Religious Studies pays close attention to what supporters of these religions think, do, and believe, and explores the very real differences that exist between various groups within each faith.
Throughout your studies, you will analyse and contextualise the thinking behind key religions to appreciate their history, spirituality, and their relevance to the social and political landscape. All of our teaching is research-informed and you will be taught by highly-qualified academics, all of whom have a PhD in the area, who are both active and published researchers and committed teachers. We work hard to provide top-quality educational opportunities for all our students, and the Department has recently invested heavily in learning resources; combined library holdings in Theology and Religion are now in excess of 100,000 volumes.
Above all, the Religious Studies degree treats religions as lived faiths by looking at the way that they are followed in Britain and across the globe today. You acquire skills in the different methods of studying religion. The degree examines profound questions of faith and life in ways that are intellectually challenging, illuminating, and engaging. By drawing out the complex issues that surround religious belief and expression, the degree equips you to engage with the pressing questions of our time and to play your part in promoting religious and social harmony.
For more details and information about this course visit:
Religious Studies