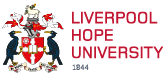 Virtual tours
Welcome to Liverpool Hope University! Use the menu on the top left corner to switch between Hope Park and Creative Campus.
If you would prefer to book a physical campus tour, you can book on to one of our Hope Park or Creative Campus tours here . Our tours typically run on Tuesdays and Fridays at 11am and 2pm.
The tours give you the opportunity to view our facilities, and put any questions you may have to both our recruitment staff and student ambassadors.
Alternatively, please click on the links below to watch a pre-recorded virtual tour of our Hope Park Campus and Creative Campus.
If you would like to see our accommodation, you can view our 360-degree images here