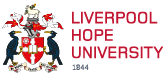 Accessibility statement for hope.ac.uk
This website is run by Liverpool Hope University. We want as many people as possible to be able to use this website. 
This statement applies to websites supported by the Corporate Communications and Marketing Team, which is most pages published under www.hope.ac.uk.
There are a mix of templates and systems being used on this site, and some are more accessible than others. On the majority of our site you should be able to:
Zoom in up to 200% without text spilling off the screen

Navigate most of the website using a keyboard

Listen to on-screen text using a screen reader

Change colours, contrast levels and fonts using an external tool
We are committed to making sure that all content on the website is as simple as possible to understand.
This statement describes what is accessible on our site and what isn't accessible and how we plan to deal with this. It also describes what you can do if you have problems accessing our site.
This statement does not cover websites that are not controlled by the Corporate Communications and Marketing Team, such as those run by:
IT Services

The University library

Sites developed and supported by academic colleagues

E-learning systems
We will link to statements for these sites as they are developed.
Accessibility help
The information below may be helpful if you have any difficulties using the internet or have specific accessibility issues.
If you need help getting started online
Getting started with the internet
If you find a keyboard or mouse hard to use
Find out how to make your mouse easier to use
Find out how to use your keyboard to control your mouse
Find out about alternatives to a keyboard and mouse
If you can't see very well
Learn how to increase the size of the text in your web browser
Learn how to change text and background colours to make them easier to read
Learn how to magnify your screen
If you are blind
Find out about screen readers and talking browsers
How accessible is this website?
Content on our site will have been created and uploaded by many users over a long period of time, so the standard of content will vary accordingly. Some parts of the site were created before current accessibility standards were in place.
We know that some parts of this website are not fully accessible, for example:
Some of our videos do not have transcripts or captions

You cannot modify the line height or spacing of text

Some older PDF documents are not fully accessible to screen reader software

Some of our online forms are difficult to navigate using just a keyboard

You cannot skip to the main content when using a screen reader

Some images have alt text that is missing or uninformative

Not all links have adequate text to explain their purpose

Some 3

rd

party systems may not have been tested fully and may not meet accessibility standards
We are currently testing our website and will highlight any further issues we come across.
What to do if you cannot access parts of this website
Please contact us if you need information on this website in a different format like accessible PDF, large print, easy read, audio recording or braille:
If you cannot view our maps, call or email the university for directions.
Third Party content and systems
We have some third-party content on our website. Depending on our relationship with the third party we cannot always guarantee its accessibility. We will endeavour to work with our suppliers to ensure the accessibility of this content.
We use Google Maps in several parts of our site including our main maps site. Google Maps accessibility information.
Reporting accessibility problems with this website
We're always looking to improve the accessibility of this website. If you find any problems not listed on this page or think we're not meeting accessibility requirements, please contact our IT Services team via email itshelp@hope.ac.uk
Enforcement procedure
The Equality and Human Rights Commission (EHRC) is responsible for enforcing the Public Sector Bodies (Websites and Mobile Applications) (No. 2) Accessibility Regulations 2018 (the 'accessibility regulations'). If you're not happy with how we respond to your complaint, contact the Equality Advisory and Support Service (EASS).
Technical information about this website's accessibility
Liverpool Hope University is committed to making its website accessible, in accordance with the Public Sector Bodies (Websites and Mobile Applications) (No. 2) Accessibility Regulations 2018.
Compliance status
This website is partially compliant with the Web Content Accessibility Guidelines version 2.1 AA standard, due to the non-compliances listed below.
Non-compliance with the accessibility regulations
The list below is a broad guide to where we need to work on making our content accessible. We aim to have each of the issues outlined below resolved by Friday 16th December 2022 - unless otherwise stated.
Links
Some links are not labelled clearly, or contain only images with no or poor ALT text. (WCAG 2.4.4 Link Purpose).
We will correct links as we review each page.
Images
Some images used for icons or for other useful information don't have ALT text set (WCAG1.1.1 Non-text Content).
We will correct links as we review each page and our site functionality (for example our search).
Page structure
Some pages have a structure that doesn't follow a logical order (WCAG 2.4.6 Headings and Labels).
We will correct these as we review each page and also correct any errors in our site templates.
Colour contrast
Some of our pages use elements with insufficient colour contrast (WCAG 1.4.3 Contrast (Minimum)).
We are in the process of correcting this as part of a redesign of our website, and are rolling out fixes as we go.
Tables
Some of our data tables need headers and captions set (WCAG 1.3.1 Info and Relationships).
We will correct this as we review each page.
PDF files
The site contains PDF files published after September 2018 that do not meet accessibility standards and may contain content that should be available in an accessible format such as HTML.
We will correct this or provide accessible alternatives as we review each page of our site and also make content creators aware of the problems with PDF files.
Focus indication
Some elements of our site do not provide a visual indication of what they are when they are focused on by keyboard navigation (WCAG 2.4.7 Focus Visible).
We will correct this as part of a review of our templates and site functionality.
Videos
Some legacy video content does not currently have captions.
Non-text Content
The Open Days Booking form features non-text content (WCAG 1.1.1 Non-text Content). We are working on resolving this issue, and expect to have this fixed by the 1st November 2022.
Disproportionate burden
We are not claiming disproportionate burden.
We are currently doing a major revamp of the site, as part of this we are assessing the accessibility of our content and fixing problems as we find them.
Content that's not within the scope of the accessibility regulations
PDFs and other documents
The accessibility regulations do not require us to fix PDFs or other documents published before 23 September 2018 if they're not essential to providing our services.
Live video
We do not plan to add captions to live video streams because live video is exempt from meeting the accessibility regulations.
How we are testing this website
We will be using a mix of automated testing and manual testing of a representative sample of the site against the WCAG 2.1 AA standard.
What we're doing to improve accessibility
There are over 4,000 pages on this website which can be updated by over 120 members of staff. Making the website fully accessible will be a long process.
We are including accessibility as a fundamental part of any future websites we create.
We are currently auditing our websites, templates and online documents for accessibility. Required changes will be made as soon as possible.
Preparation of this accessibility statement
This statement was prepared on 6th April 2018. It was last reviewed on 11th November 2022.
This website was last tested on 1st September 2022. The test was carried out by Liverpool Hope University using a mix of automated testing and manual testing of a representative sample of the site against the WCAG 2.1 AA standard.
We use Sitemorse to scan a representative sample of our pages for accessibility errors along with manual checks.