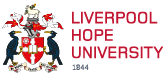 Payment portal
Welcome to the Payment Portal! The links below allow you to make payments for common purchases using your credit and debit cards. For some purchases, you may need to provide your student ID.
You can make a payment to Liverpool Hope University using Mastercard, Visa, Visa Debit, Visa Electron, Maestro or bank transfer.

Students can be particularly vulnerable to financial crime, especially those experiencing life away from home and from the guidance of parents for the first time. To help keep you safe, please have a look at our information on Frauds and Scams to see some examples of some of the most common scams and areas of risk affecting students.