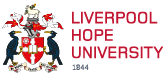 Visit us
The best way to get a feel for our University is to come and see it for yourself. Whether you join us on one of our Open Days or you book in for a campus tour, there are lots of ways you can visit us.
Open Days

Our Open Days give you the chance to explore our campuses, chat to our students and academics and learn more about life at Hope. Find out more and book your place on our Open Days page.
Applicant Days

If you've made an application to Liverpool Hope, you will be invited to an Applicant Day. Find out more about these applicant-only days by visiting our Applicant Days page.
Campus Tours

If you can't make it to one of our Open Days, we also run weekly campus tours that you can attend. Visit our campus tours page for more information.
School Visits/Pre and Post 16 Days

If you are a teacher or careers adviser and want to arrange a school visit, there are a number of ways we can help. Find out more about services for schools and colleges on our other visits page.
Other outreach activities

We offer a wide variety of student recruitment activities, events and workshops that cater for Secondary School aged young people to support them in considering university as a pathway to their future. Visit our Outreach activities webpage for further information.