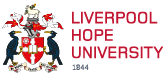 Other visits
If you are a teacher or careers adviser, there are a number of ways we can help show your students what life at our University is really like. From school visits to campus to our ambassadors coming to your school, to UCAS Fairs across the UK, we are here to help.
School visits
We can arrange for a number of your students to come on a visit to our campus. During their visit, they will be shown around the campus to see our amazing facilities, can hear from our academics, student finance team, student admissions team and many more, as well as chat to our Student Ambassadors, Graduate Advocates and Recruitment Officers about general life at Hope.
We can also arrange for one of our Graduate Advocates or Recruitment Officers to come to your school and give a talk on a variety of topics, from university life, writing a personal statement to fees and funding.
If you would like to arrange either a visit to our University, or would like someone to come to you, please email outreach@hope.ac.uk
UCAS Fairs
Our Graduate Advocates and Recruitment Officers attend most UCAS Fairs around the UK. On the day, they will be on hand with our latest publications to speak to any students who are interested in studying with us. Details of upcoming fairs can be found on the UCAS website.