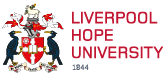 About us
Liverpool Hope University pursues a path of excellence in scholarship and collegial life without reservation or hesitation. The University's distinctive philosophy is to 'educate in the round' – mind, body and spirit – in the quest for Truth, Beauty and Goodness.
No ordinary city, no ordinary university
With a history extending 175 years, Liverpool Hope has developed a strong tradition of scholarship and research in key disciplines.
Liverpool Hope has two main teaching campuses. Hope Park is situated in a leafy suburb of Liverpool and is a mini educational village. The Creative Campus in Liverpool city centre is the home to our creative and performing arts subjects. Both campuses have seen major investment in recent years, so traditional architecture now sits beside contemporary buildings and facilities.
The University places great emphasis on the bringing together of research excellence and top-quality teaching. This is facilitated by a community of academics and scholars who are of the highest calibre. This research-informed teaching enables our students to develop into rounded and employable graduates who can take their place confidently as global citizens in the 21st century.
Watch Our Video