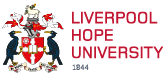 Achieve your career goals
Whether your dream is to be a leader in business, a pioneer in computer science, a life-changing teacher or an advocate for improved health and social care, Liverpool Hope has a dedicated careers team to support you all the way.
Leading the way
We know how important your future is to you and so we offer support from the day you start at Hope, so that you gain employability skills alongside academic success.
Nathan Brown describes how the university is helping him to fulfil his career potential.
See how we can help you reach your full potential.
Helping you succeed
Personalised advice, accessible anywhere
We provide a one-to-one advice service to ensure that you get the support that is best for you. We can help with a range of activities from long term goals, like applying for graduate schemes or further study to short term practicalities, like part time work or a new CV.
As a Liverpool Hope student, you have access to My Career Centre which is full of resources to help you plan and achieve your career goals. You can also build a CV, search for jobs and book onto our events. For Graduate access to My Career Centre, you will need to reset your password and you'll receive joining instructions by email. If you cannot access your Hope email address, please contact IT Services via email: itshelp@hope.ac.uk.
Placement Years and the Placement and Internship Programme - PiP
We offer all students the opportunity to add a placement year to their degree. We also work with a range of organisations to offer internship and placement opportunities. Getting hands-on experience gives you unique insights into a career and valuable experience when applying for jobs or further study.
The Duke of Edinburgh's Award and the Service and Leadership Award
Do something that makes you stand out and have some fun in the process! Push yourself with DofE or give something back with SALA. We can offer all three DofE awards using our North Wales outdoor centre, Plas Caerdeon.
Part-time work on campus
We have a variety of jobs on campus that are exclusively for Liverpool Hope students. Work up to 10 hours a week on campus to support yourself while you study, gain experience in the workplace and meet new people.
Support even when you have graduated
Liverpool Hope graduates can access everything we offer for up to three years after graduation. We want you to succeed long term, so we're here for you long term.
Enhancing Student Employability
Read our Strategy for Enhancing Student Employability
Find out more