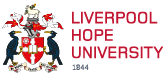 Undergraduate
At Liverpool Hope University, we offer a wide range of undergraduate degrees, both as single and combined honours.
We place a great emphasis on bringing together research excellence and top quality teaching. The aim of our research-led teaching is to ensure that you develop into a rounded and employable graduate to take your place in society and make a difference in whatever career path you choose.
For full details of all our degrees, including UCAS codes and entry requirements, check the Undergraduate Courses pages.
We offer two types of degrees:
Single Honours: You study one main subject area. Single Honours degrees are a good choice if you have a particular subject area you want to study in more depth.
Combined Honours: you will study two Major subject areas equally. Combined Honours degrees are a good choice if you are interested in more than one subject area.
Watch Our Video