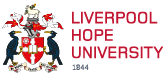 Our campuses
At Liverpool Hope University, we have two beautiful main teaching campuses, a dedicated accommodation campus, and an outdoor education centre. It is within the beautiful landscaped grounds of these campuses that you will study, live and socialise, whilst enjoying all of the benefits of being in the vibrant city of Liverpool.
Hope Park
Hope Park is our main teaching campus and is situated in Childwall, a leafy suburb of Liverpool. The campus is a mini educational village with places to live, work, study, eat and relax. Find out more about Hope Park.
Creative Campus
Creative Campus is the home to our creative and performing arts degrees. It is based in the city centre of Liverpool and is a constant hive of activity, with teaching, living and social spaces – and an on-site theatre. Find out more about our Creative Campus.
Aigburth Park
Aigburth Park is our residential-only campus providing accommodation for continuing, postgraduate and international students. Find out more about Aigburth Park.
Plas Caerdeon
Plas Caerdeon is our outdoor education centre based in Snowdonia, North Wales. It delivers residential outdoor activity courses to a wide range of external groups, including schools, youth groups of all ages, university students and staff. Find out more about Plas Caerdeon.