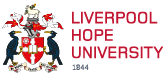 Working at Hope
Here you will find our very latest Academic, Administrative, Management and Manual employment opportunities that are currently available within the University. 
You may also find it useful to read more about the Hope story and our mission and values.
We request that all short-listed candidates bring along to their interview:
documentary evidence of all of the qualifications listed in your application form
approved original documentation as verification of your eligibility to work in the UK, in accordance with the Immigration, Asylum and Nationality Act 2006. Please download the
Document that can provide evidence of entitlement to work in the UK for your information
If you have any queries please contact us.
Current vacancies
If you're interested in coming to work for us, check out our current vacancies page to see the latest job opportunities.
Criminal Records Check
Some roles within the University require you to have a criminal records check with the Disclosure and Barring Service. Find out more on our Criminal Records Check page.
Privacy statement for job applicants
For full details on how we use your personal data when you apply for a job at Liverpool Hope University, please download our Applicant Privacy Notice (Staff).
Contact us
Personnel
Liverpool Hope University
Hope Park
Liverpool
L16 9JD
jobs@hope.ac.uk (for recruitment queries and return of application forms)
During office hours (8:30am to 5pm, Monday to Friday)