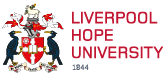 Postgraduate Taught
Whether you want to further your knowledge in a subject you're passionate about, boost your CV, or get your dream job, a postgraduate taught degree from Liverpool Hope University can help you stand out from the crowd and achieve your goals. View our full range of Postgraduate Taught courses.
Postgraduate taught degrees
Our Postgraduate Taught Masters degrees offer you choice and flexibility, and the opportunity to study in a vibrant, supportive academic environment. Our Masters degrees are underpinned by the research and expertise of our academic staff. Study a postgraduate degree with us and you will have the opportunity to become involved in high quality research across a range of disciplines.
MA
We offer a range of Master of Arts degrees across our Schools and Departments. From Education, to Social Policy and Youth & Community Work, we have something for everyone.
MSc and MRes
We have a number of Master of Science and Master of Research degrees. From Computer Science to Psychology to Sport and Exercise Science, our Postgraduate science degrees will challenge and excite you in equal measure.
Online PGCerts
We have a number of Postgraduate Certificates (PGCerts) delivered exclusively online, allowing you the flexibility to enhance your practice and broaden your professional expertise from anywhere.
PGCE
Our popular Postgraduate Certificate in Education courses give you the opportunity to combine theory with practice, as well as gaining the professional qualification you need to become a teacher. Our teacher training courses are ideal if you already have an undergraduate degree and wish to get into the teaching profession.
We offer a variety of PGCEs aimed at teaching different school age groups: PGCE Primary (3-7), PGCE Primary (5-11), and PGCE Secondary.
Watch Our Video