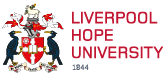 Finance Department
The Finance Department is here to provide guidance and support to both Staff and Students in all financial matters.
It is responsible for the production of the University financial statements and for the administration of a range of financial processes across the University.
These processes include:
budget monitoring and reporting
student finance
student funds
procurement
payroll including expense management
project accounting
purchase ledger
sales ledger
The Finance department is also responsible for the regulation of all the income and expenditure of Liverpool Hope University and ensuring that the systems of accounting and internal controls are adequate and in accordance with statutory guidance.