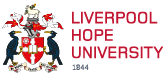 Library and learning facilities
Liverpool Hope's library service gives you access to a large collection of physical and online resources to support learning and research.
There are a variety of study spaces across both campuses to support the wide range of learning styles and needs, from individual study rooms to group spaces, and from silent study to more relaxed social learning.
Library staff work closely with you and the materials available to provide support and advice on resources and services where and when you need it. Support can also be obtained virtually via our chat and email services. As well as the libraries at Hope Park and the Creative Campus, there are a range of other learning spaces across both campuses providing social learning, areas with PCs and laptops, facilities to practice presentations and more.
Access for external users
Liverpool Hope University allows access and borrowing rights to some categories of external users. Visit our access for external users page to find out how we can help you. Please note that access to visitors can be restricted at different times of the year, so please check before any visit.
Special Collections
Hope Park is home to the Sheppard-Worlock Library's Archives and Special Collections which has over 75,000 books, manuscripts, journals, newsletters, magazines, and pamphlets, and boasts an environmentally controlled vault. Find out more about our Special Collections.
Library Donations Policy
The Library welcomes donations from external donors under certain circumstances. Please read our donations policy before contacting us to donate books.
Library Donations Policy - External Donors
Contact us
Got a question for us? Visit our contact us page for information on how to get in touch.
Current students
If you're a current student at Liverpool Hope, visit the library section of the student gateway for the main library webpages.