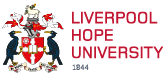 Contact the Library staff
Library staff are here to help and support you with your studies at Liverpool Hope.
The staff
The Library is staffed by Subject Librarians, Library Assistants and Student Ambassadors; please ask them any questions you may have whilst in the library.
Student Ambassadors (identified by wearing a red top) can help with basic enquiries such as opening hours, using the self-service machines and directions.
Library Assistants can assist you with issues relating to your library account and help with finding items in the library.
Subject Librarians are available for detailed subject enquiries and research techniques. Subject Librarians can be found on Subject Support points (when operational) or you can ask at the Library Help Point for the on-call Librarian. Subject Librarians can also offer support online via Zoom or Hangouts.
Contact Points
The Library Help Point is the desk immediately inside the main entrance of to The Sheppard-Worlock Library. At the Creative Campus Libraries, the Help Point is located at the rear of the Cornerstone Library and at the front of the Capstone Library.
The Subject Support Point in The Sheppard-Worlock Library is clearly sign-posted. The Creative Campus Subject Support Point is based in the Cornerstone Library near the library entrance. Here you can find the Subject Librarian on Mondays and Fridays during term time.
The Sheppard-Worlock Library
Hope Park
Liverpool Hope University
Hope Park
L16 9JD
Library Help Point: 0151 291 2000
Subject support points: 0151 291 2079 / 0151 291 2007
The Creative Campus Library
Creative Campus
Liverpool Hope University
Creative Campus
17 Shaw Street
Liverpool
L6 1HP
Library Help Points:
Cornerstone: 0151 291 2099
Capstone: 0151 291 3910
Subject support point: 0779 370 9259
Email for all general library queries
Social Media
Twitter: @Hope_Library
Instagram: @livhopelibrary
Read our Special Collections blog here


IT Services:
Located on the first floor of The Sheppard-Worlock Library.