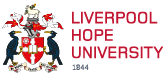 Information for New Students
Welcome to Hope!  
I hope that you are looking forward to joining the Liverpool Hope community and beginning your studies.
I want you to be able to settle into the University as quickly and easily as possible so that you have the best possible opportunity for success in your studies and also for all the other exciting opportunities that the University can offer you. We encourage students to get involved in all aspects of university life; from sports teams and societies.
Our Gateway Team are here to help you. You can contact them by phone (0151 291 3813) or email gateway@hope.ac.uk or, if you are local pop in and speak to them at the service desk in the Gateway Building at Hope Park. The team is very experienced and will be able to help or point you in the right direction.
For further information, you can also check the Student Gateway pages or contact the Gateway Team by email gateway@hope.ac.uk.
Prior to arriving, you need to register for your course to ensure that you have access to your timetable and all of the University's services. Please will you also take particular care to read the essential health information.
I am looking forward to welcoming you personally.
Dr Penny Haughan, Deputy Vice-Chancellor and Provost


For further information, please view our academic calendars page.