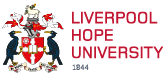 Life at Hope
University life is about more than just studying, and being based in one of the UK's best cities, means there's plenty to explore and experience. We want you to get the most out of both your studies and your downtime, and we're here to support you every step of the way.
Our two main teaching campuses are set within beautifully landscaped grounds, providing an inspirational backdrop to where you will study, live and socialise.
Hope Park is our main teaching campus, situated in the leafy suburb of Childwall, while the Creative Campus, in the city centre, is home to our creative and performing arts degrees. Both campuses are at the heart of student life at Hope and have all of the facilities you need for work and play, including places to eat and drink, a gym, libraries, an employability hub, plenty of green spaces and on-site accommodation.
We also have a Student Life team who is here to offer comprehensive advice, support and guidance to all students. As well as academic and learning support from both your subject tutors and a team of personal academic support tutors based within each School and Department.
Explore this section to find out what life at Liverpool Hope University is really like.
Watch Our Video