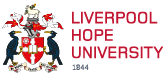 Cookies policy
At Liverpool Hope University, we recognise that your personal privacy is an important issue and we support the principle of protecting privacy on the Internet within the context of current UK legislation.
By using the Liverpool Hope University website you consent to the collection and use of your personal information in accordance with this policy. This policy may change from time to time so please check back periodically.
What information is collected, and how is it used?
Automatic Collection of Data
The University website automatically collect standard, anonymous information, like the IP address of your computer, the browser software used, the operating system, access times, pages visited, your location, the internet service provider, the type of computer, the address of the website that linked to us, demographic information (age, gender and overview of traffic by age and gender), overview of traffic by affinity, in market and other categories. This information is used in an anonymous form to monitor usage and to assess the effectiveness of the University's sites.
Manual Collection of Data
On occasions we may ask you to provide some personal information about yourself to participate in services such as market research, Alumni email directory or the University e-payment facility. This information may include your name, title, institutional affiliation, address, telephone number and email address. It may be stored electronically or manually by the University.
On occasion you may be asked to provide some limited personal information (such as name, postal address, email address), when requesting publications, information or services via the University site. When providing this information, you may also be asked whether you wish to receive any further communication from Liverpool Hope University thought relevant to you. Any personal information you provide will be held in accordance with our Enquirer Privacy Notice and used only for the reason specified at the point of collection. We will not sell, license or trade your personal details to any third party. If you no longer wish to receive any communications then you can unsubscribe by emailing: merrims@hope.ac.uk.
You may request details of personal information which we hold about you under the General Data Protection Regulation (GDPR). If you would like a copy of the information held on you, please write to the Company Secretary, Liverpool Hope University, Hope Park, Liverpool L16 9JD or email foi@hope.ac.uk.
If you believe that any information we are holding about you is incorrect or incomplete, please write to the Legal Services Governance and Risk Senior Officer at merrims@hope.ac.uk as soon as possible. We will promptly correct any information found to be incorrect.
In certain circumstances, you have the right to ask for the information we hold about you to be deleted. To do this, please contact the Legal Services Governance and Risk Senior Officer at merrims@hope.ac.uk.
Security
We are committed to ensuring that your information is secure. In order to prevent unauthorised access or disclosure, we have put in place suitable physical, electronic and managerial procedures to safeguard and secure the information we collect online.
Cookies
What are Cookies?
Cookies are small text files that are downloaded to your device by the website. They are used to collect details of how you navigate the site. They may then be used to deliver the services you have requested and / or identify improvements that the University can make to enhance your experience of the site.
A cookie in no way gives the University access to your device or any information about you, other than the data you have chosen to share (see What Information is Collected above). You can set your browser to prevent the use of cookies although this may result in some of the features on the website becoming unavailable to you.
Types of Cookies
There are two types viz
| | |
| --- | --- |
| Session Cookies | These are created temporarily when you visit the site. Once you leave the site or close the browser, they are deleted |
| Persistent Cookies | These remain on the device and are utilised whenever you visit the site. They will expire after a defined period or can be removed manually |
Classification of Cookies
Based on the International Chamber of Commerce UK Cookie Guide, the cookies have been categorised into one of 4 classifications viz
| | |
| --- | --- |
| Strictly necessary | These are essential to enable navigation around the site and using the features contained within it |
| Performance | These collect information about how you use the site and any error messages encountered. They do not collect information that can identify you. The gathered information is aggregated and, therefore, anonymised. |
| Functional | These allow the site to remember parameters you have set including username, language and region. This allows the site to provide you with a more personalised view. The information collected by these cookies can be anonymised and they cannot track your browsing activity on other sites. |
| Targeting / Advertising | These are used to deliver adverts relevant to you and your interests. They are used to limit the number of times you see an advertisement and assist in the assessment of the advertising campaign effectiveness. |
How Cookies are used
Google Analytics
This is used to hold information about your visit to the site. It helps us identify the use and popularity of our services and how successfully the website is functioning. If you do not wish us to do this, you can delete/restrict the cookies by the following the guidance in the Control and deletion of Cookies section below.
Google Advertising Features (including Demographic and Interest Reports)
The University has enabled Google Analytics Advertiser Features. By enabling this, the University collects data about our traffic via Google advertising Cookies and anonymous identifiers over and above data collected through the standard Google Analytics, through features including:
Remarketing with Google Analytics
Google display Network Impression Reporting
DoubleClick Platform Integrations
Google Analytics Demographics and Interest Reporting
The University does not facilitate the merging of personally identifiable information with non-personally identifiable information collected through any Google advertising product or feature unless we have given you robust notice of, and receive your prior affirmative (ie opt-in) consent to, that merger.
Remarketing/advertising cookies and smart pixels
A SmartPixel is a snippet of code within a website which allows you to identify non-personal attributes of a visitor to the site in order to later serve them with precisely-targeted ads.
Remarketing means Google and other third parties can show adverts to users who have previously visited the University's websites on behalf of the University, while they are browsing the web. This helps the University with our marketing and advertising activity.
Remarketing involves placing a piece of code know as a cookie or pixel on pages of a website (this may be on all or selected pages of websites and microsites operated by Liverpool Hope University).
Example
The cookies for web users who have visited the University's Open Day page may be added to the Open Day remarketing list. After visiting the page, users may subsequently be shown an advert about Open Days at Liverpool Hope after they have left www.hope.ac.uk, while they are browsing the internet.
You can read more about how remarketing works in the Help section of the Google Double Click Ad Exchange website.
Reach PLC
The University works with a third party, Reach PLC, to send digital adverts promoting the University. Data management platforms, Lotame and Permutive, use tags on the website to categorise users depending on the actions they have carried out.
The data is sent to the AppNexus Platform product which uses only non Personally Identifiable Information (PII). It operates by associating non-PII with browsers and devices, so that the University and its partner digital agencies can use the information to select appropriate advertising to be delivered to you. No personal data is collected and stored at any point. IP addresses are used to infer approximate geographical location but they are not stored.
AppNexus Platform privacy policy
Cookies in use
Liverpool Hope University sets cookies including but not limited to the following:
University Cookies
| Cookie | Purpose | Type | Expiry |
| --- | --- | --- | --- |
| MOODLEID_moodle1819 | This remembers your username within the browser allowing the username field on the login page to be filled in for you. If you refuse this cookie, you will have to retype your username each time you log in. | Functional | Expires when Moodle has not been accessed for two months. |
Google analytics
| Cookie | Purpose | Type | Expiry |
| --- | --- | --- | --- |
| _utma | Tracks how many visits you have made to the site, when the first one was and when the last one was | Performance | 2 years |
| _utmb | Used to track exactly when you visit the site | Performance | 30 minutes |
| _utmc | Used to track exactly when you the site | Performance | Removed when you close the browser |
| _utmz | Tracks how you got to the site, what link was used and from which part of the world | Performance | 6 months |
Please note: further information on these cookies can be obtained by accessing the Google Analytics privacy policy.
Marketing analytics
| Cookie | Purpose | Type | Expiry |
| --- | --- | --- | --- |
| utm_campaign | Identifies a specific product promotion or strategic campaign. | Targeting / Advertising | Never |
| utm_content | Identifies what specifically was clicked to bring you to the site eg a banner ad or a text link | Targeting / Advertising | Never |
| utm_medium | Identifies what type of link was used such as email or cost-per- click | Targeting / Advertising | Never |
| utm_source | Identifies which site sent the traffic to the site | Targeting / Advertising | Never |
| utm_term | Identifies search terms used | Targeting / Advertising | Never |
AppNexus Platform
| Cookie | Purpose | Type | Expiry |
| --- | --- | --- | --- |
| uuid2 | This contains a unique randomly-generated value that enables the Platform to distinguish browsers and devices. It is matched against information – such as advertising interest segments and histories of ads shown in the browser or device – provided by clients or other third parties and stored on the Platform. This information is used by clients to select advertisements for delivery by the Platform, and to measure the performance of, and attribute payment for, those advertisements. | Targeting / Advertising | 90 days |
| uuid2 (opt-out) | When a user opts out of using the Platform, the unique value in uuid2 is deleted and replaced with the non-unique value "-1". | Targeting / Advertising | 90 days |
| sess | This contains a single non-unique value: "1". It is used by the Platform to test whether a browser is configured to accept cookies from AppNexus. | Targeting / Advertising | 90 days |
| icu | This is used to select adverts and limit the number of times a user sees a particular advert. It contains information such as the number of times an advert has been shown, how recently an advert has been shown, or how many total adverts have been shown | Targeting / Advertising | 90 days |
| anj | This contains advertising interest segments provided by clients and other third parties. Clients use those segments to select advertisements for delivery on the Platform. | Targeting / Advertising | 90 days |
| token | Cookies that start with token are helper cookies used as a security measure with industry opt-out pages. They contain a unique value only to verify the origin of opt-out requests. | Targeting / Advertising | 90 days |
| acb | Cookies that begin with acb have a value unique to a particular advert and are used to indicate to the Platform which advert to show and to record the fact that such adverts were shown, for purposes such as billing and reporting. | Targeting / Advertising | 90 days |
Control and deletion of Cookies
The use / deletion of cookies can be controlled by adjusting the browser sessions. View general advice on this.
Cookie guides for specific browsers can be found as follows:
In addition to the above, you can:
Request for access
Any requests by individuals for access to information held about them by the University should be made in writing to the Legal Services Governance and Risk Senior Officer, Liverpool Hope University, Hope Park, Taggart Avenue, Liverpool, L16 9JD.