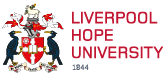 Postgraduate Research
We currently have over 150 postgraduate research students conducting specialist research and collaborating with academic staff who are working at the frontiers of their subjects.
We are committed to ensuring that the quality and relevance of our postgraduate research programmes are of the very highest level.
Many aspects of our research have been judged to be of a world class standard. Our research activities take place across the range of disciplines - in humanities, sciences and social sciences, education, liberal arts, business and computer science.
At Liverpool Hope, we welcome applications from students interested in pursuing a full-time or part-time higher degree - Master of Philosophy (MPhil), Doctor of Philosophy (PhD) or Professional Doctorate (EdD) and who satisfy the University's entry criteria.
Before you apply for postgraduate research, you should contact the academic department/school you are interested in to check that your research proposal aligns with our key research areas and that there is appropriate support available to supervise your research.
Full details of entry requirements and how to make your application can be found in our How to Apply section.
Watch Our Video