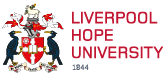 How to apply
We welcome applications from students interested in pursuing a full-time or part-time higher degree (Master of Philosophy (MPhil), Doctor of Philosophy (PhD) or Professional Doctorate (EdD) and who satisfy the University's entry criteria.These pages tell you everything you need to know about applying for a postgraduate research degree at Liverpool Hope University.
Apply online
Applications for a postgraduate research degree need to be made through our online system. For full details about the application process, visit our applying online page.
Entry requirements
Entry requirements for a postgraduate research degree differs, depending on the type of research you want to undertake. Full details can be found on our entry requirements page.