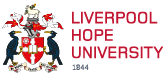 Welcome to Liverpool Hope University
Welcome to Liverpool Hope University. We are delighted that you are considering making an application for a post at our University.
If you join us, you will be doing so at an exciting time in our development and join a team of over a thousand staff, committed to providing education to our thousands of students. Liverpool Hope University is a financially sound, vibrant academic community with excellent scholarly standards and high ambition. We are proud of our past, confident in our present and excited about our future.
It is in this context that we have recently appointed well established scholars to a significant number of academic posts at the University. The posts that are currently advertised are among those that have been identified as key to our future success as we continue our rapid and carefully planned development as a University of distinction with high academic standards, excellence in both research and teaching and an outstanding reputation for the quality of our students' experience. We are looking for scholars whose personal ambition matches that of the University and who will join us on our well advanced journey to the top.
Hope is a liberal arts inspired university with faculties of Arts and Humanities, Science and Social Science and Education. It is also a unique ecumenical Christian foundation, which strives to provide a deep and well-rounded education of the whole person irrespective of faith, age, social class or ethnic origins or physical capacity. We are a real community with two beautiful garden campuses which has striven for and, we believe, achieved that balance between research and teaching. We have also successfully brought together the benefits of full University status (including RDAP) with the value of a college experience. At Hope a drive for academic excellence and a genuine concern to widen participation complement each other. Ours, we say with justification, is 'a University with a collegiate heart'.
Whilst Liverpool Hope is one of the newest universities in the country, its history goes back to our founding colleges in the 19th century (1844 and 1856.) It is these foundation colleges, together with the later Christ's College, that have now been brought together to form Liverpool Hope University.
Whatever your job in the University may be, we hope that should you join us you will recognise the importance of your contribution as part of the whole university and its ambitions and that you will quickly feel part of our quite unique Hope Community. We pride ourselves on being just that: a community where all staff and students are valued as together we seek both to recognise the vision and achievements of the past and to build imaginatively for the future.