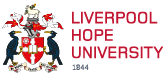 Chat with us
Speak to us about life at Liverpool Hope.
You can chat to one of our ambassadors about any aspect of studying with us: accommodation, course content, assessment or making friends. The team are super friendly and happy to help with your queries.
We will answer your questions as promptly as possible, but please note this is not a live chat service.
Attending our Open Day?
If you're wanting to chat to our support teams, click on the staff tab below and select the staff member you'd like to talk to - we'll be happy to answer any questions you have.
If you're wanting to chat to our students, click on the students tab below.