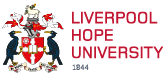 How to apply
We welcome applications from around the world and we try to make the process of applying as smooth as possible.
Applications for all of our undergraduate full-time degrees must be made online through UCAS. The UCAS number and abbreviated name for Liverpool Hope University are L46 and LHOPE.
The deadline for applications is usually January 15th each year, but applications after this date may be considered if you are a UK or EU student.
If you are an international student, you need to apply through UCAS by June 30th.
Applying through UCAS
Unsure of the application process? Visit our applying through UCAS page for all the essential information you need.
Entry requirements
We accept a wide range of qualifications. Visit our undergraduate course pages for details of UK qualifications, and for specific country entry requirements, visit the your country pages in our international section.
Part-time study
Most of our Undergraduate degrees can be studied on a part-time basis. Visit our part-time study page for more details.
Student contract
Visit our student contract page to find out about the small print before you accept an offer to study at Liverpool Hope University.
Admissions policy and appeals
Our admissions policy and appeals page gives you details about our recruitment process, how we choose who to admit onto our courses and how you can appeal a decision.
Accreditation of Prior Learning
Visit our Accreditation of Prior Learning pages to see if you can claim "credit" towards your award-bearing course from previous learning.