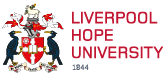 Part-time work
From independent bars and restaurants to supermarket superstores, Liverpool is a bustling city full of opportunities.
Part-time work not only helps you earn extra money while you're studying, but it's also a great way to gain work experience, develop new skills and meet people. Liverpool Hope University offers part-time jobs here on campus through Hope Works. In addition, Liverpool has plenty of part- time work that is local to both campuses in shops, bars, restaurants and more.
If you're not sure where to start looking why not try:
Online job searches - websites like Indeed and Reed have large volumes of job vacancies
Independent Liverpool Jobs - job vacancies from independent businesses across the city
Business Social Media Pages - small organisations sometimes advertise roles this way
Supermarkets - Liverpool has a few big supermarkets who take on lots of part time staff
Business or Shopping Parks - sometimes have a website for stores to post vacancies in one place

Hope Works
Hope Works is the University's on-campus jobs service. We connect students studying at Liverpool Hope with a wide range of part time, paid work opportunities, all based on campus at either Hope Park or Creative Campus.
The Hope Works opportunities are open to all registered students at Liverpool Hope and the range of roles is varied. Previous jobs have included Student Ambassadors, Catering Assistants, Writing and Study Skills Mentors and Sports Coaches.
Hope Works offers students the opportunity to:
Earn a wage and supplement their income
Develop skills and experiences that are valued by employers
Gain application and interview experience
Become more involved in university activities
Gain experience to put on your CV
Meet other students

Balancing part time work and study
As a university student your priority should be to graduate with a good degree so part time work should support your studies, not interfere with it. If you find that you're working instead of attending lectures or seminars you might need some help balancing your commitments. Having a chat with a careers adviser can really help, you can make an appointment on My Careers Centre.
Top tip
"Part-time work can be a great chance to gain transferable skills. To find out how to show off your student job experience on your CV in a way that impresses employers, pop into Careers Drop-in in the Employability Hub."
Anna Worsley - Senior Placement and Employment Officer


Registering & applying for Hope Works vacancies
Register: Log on to MyHope and click Hope Works. Here you can create your online profile to apply for on campus jobs
Submit right to work: Visit a Hope Works drop-in session to have your check approved
Apply online: Visit Hope Works to view and apply for jobs. Some of the vacancies receive high numbers of applications, so apply quickly and have your application checked over by one of the team
Please note: before you can apply for vacancies through Hope Works you must complete a Right to Work check that confirms your eligibility to work in the UK. Guidance on acceptable documents can be found here, we cannot accept copies.
We are unable to let students know of any job vacancies before they are posted online and we are unable to source roles for individual students. When a job goes live all registered Hope Works users will be sent an automated email to their student email address.
If you experience any technical problems email hopeworks@hope.ac.uk