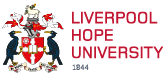 Reach your full potential
We want to help you invest in your future. Our research-led teaching aims to develop you into a rounded and employable graduate, ready to take the next steps in your chosen career. No matter what direction you take, we are here to help you achieve your goals.
Help drive social change
If you're passionate about working in a field where you can drive change in society, help the vulnerable, and truly make a difference, our School of Social Sciences can help make your dream a reality.
Many of our students have been inspired to work on the frontlines in social work, special educational needs, criminal justice, and the third sector. While others have set their sites on influencing national change.
Pippa Karikari chose to study Health and Social Care at Liverpool Hope, with the goal of driving social policy for the benefit of future generations.
Be at the forefront of science
Is your dream to be at the forefront of innovation and discovery? Studying a degree in the field of STEM (Science, Technology, Engineering and Mathematics) will open doors to a diverse range of careers in thriving sectors.
Whether it's a career as an Artificial Intelligence specialist, software engineer, psychologist or nutritionist, the opportunities afforded by the study of STEM are vast.
A PhD in Applied Mathematics allowed Shreya Sehgal to not only pursue her passion, but also present her research to leading world figures in the field.
See more from our students
The Hope student who is reinventing 'journalism' as we know it
How one Sport & Exercise Science graduate is working with the GB Women's Handball team
Business Management student Joe Perrins describes how a placement year boosted both his CV and finances
Hope student secures grant for crucial menopause research
Careers service at Hope praised by independent study
Find your niche as a Graphic Designer with help from Hope