This talented music graduate has told how studying at Liverpool Hope University helped her find her niche as an opera singer.
And having already landed a host of lucrative roles, Julia Mariko Smith has now got the world at her feet.
Before she arrived at Hope, Julia's background was firmly popular musical theatre, and she'd never even thought about singing opera.
But being embedded in Hope's Creative Campus opened her up to new forms of music.
And the 27-year-old soon realised she had a unique talent, ultimately finding her voice as a Soprano.
After picking up a First Class degree in Music in 2016, Julia stayed at Hope to complete a Masters in Creative Practice.
She's now about to leave Manchester's prestigious Royal Northern College of Music (RNCM).
And while the Covid-19 pandemic may have cancelled performances, it hasn't dampened Julia's ambitions.
Julia, from Chester-le-Street, County Durham, explains; "This all began when I started at Hope. That's when I actually discovered that I was able to sing in a classical way.
"And that led me down the path towards opera.
"I always remember at high school my drama teacher asking me what I wanted to be, and I could never really answer.
"I think they expected me to say, 'I want to be on the West End', or 'I want to sing popular music'.
"From a young age I knew I wanted to be on the stage. I'd grown up as part of a theatre group, which formed the basis of all my learning.
"But the idea of being an opera singer didn't even occur to me and I could never put my finger on what it was I really wanted to do."
That all changed, however, when Julia started studying classically at Hope.
She adds: "It all fell into place. I was like, 'This is my niche! This is what I'm good at!' My teachers at Hope saw that I had 'something' and pushed me in the right direction while giving me so much encouragement."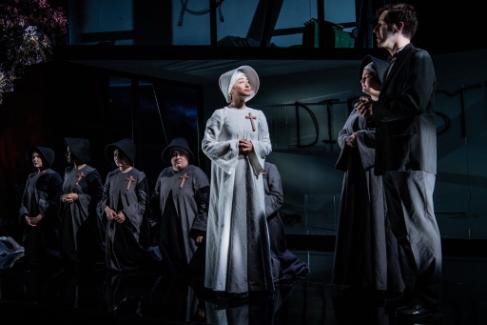 Despite her opera ambitions coming later in life, Julia's is no stranger to classical music.
Her mother is a classical pianist and Julia studied piano and flute growing up.
She adds: "But I never really married these two things together until I went to University. It really was a case of, 'Oh, I like this…'"
During her time in Liverpool Julia was part of Voices of Hope, a six part a capella group based at the University, even going on tour to the south of France as part of a charitable initiative.
She reveals: "I was given various solo parts to perform throughout my time at Hope. And those opportunities saw me actually realising what I could do.
"When it came to applying for the RNCM, I still wasn't sure.
"That was 'big guns' to me. It was daunting. But I had all these voices around me telling me I could do it, that I needed to get going, and it helped me to ultimately find my feet."
After finishing her Master at Hope she had a short break from academic studies.
But she joined the RNCM in 2018, studying for a Post Graduate Diploma in Musical Performance.
And for the 2019-2020 term she remained at RNCM as part of an Associate Studentship, which while not an official qualification means she can pick and choose whichever classes she wishes to enter.
Julia says: "By pursuing the opera dream, I came to the conclusion that I'd rather earn less money doing something that I loved, than earn lots of money doing something I hate."
Last year she appeared as Barbarina in Opera North's production of The Marriage of Figaro and has performed various roles in the National Gilbert and Sullivan Opera Company.
She's set to appear as Giulietta and Cleopatra in a 'Pocket Opera' version of Shakespeare in Love at Wexford Festival Opera later this year.
And she's also hoping to play the character Belinda in Dido and Aeneas at the Waterperry Opera Festival next year, after this year's festival was cancelled.
When it comes to dream roles, Julia hopes to one day play the title character in a production of Manon, a French opera, written by Jules Massenet in the late 1800s, which tells the story of young woman who must choose whether to live a life of luxury, or a life of true love.
Julia adds: "To play Manon would be amazing - largely because I love singing in French."
To find out more about studying music at Hope's School of Creative and Performing Arts, head here.