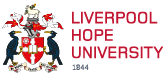 Student success stories
William Swallow completed a Masters by Research (MRes) in Sport and Exercise Science, and now works for Scottish Premiership giants Celtic Football Club.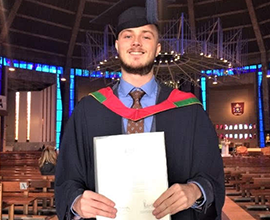 After graduating in January 2020, the aspiring fitness and rehabilitation coach immediately found himself in demand, landing a lucrative role at Celtic's academy.
The 22-year-old, from Morecambe, Lancashire, works with a range of players, from Under 11s to Under 17s, as he attempts to 'nurture' them into the first team.
William explained: "It all happened really quickly and, if I'm honest, I still can't quite believe it.
"I'm extremely grateful for this amazing opportunity. The interview process was fairly nerve-wracking and I was competing with over 180 other applicants because it's such a major role.
"But now I'm looking forward to learning about all the talented players in the academy - and I aim to do my bit to help nurture these young athletes."
William previously completed an undergraduate degree in Sport & Exercise Science at Hope before joining the MRes course.
And he's well aware of the size and history of the club he's joining - with Celtic winning no fewer than 50 league titles and having lifted the European Cup in 1967, becoming the first British team to have ever done so.
William, who played left wing for local side Morecambe Royals, added: "I've heard a lot about the intense atmosphere during games at Celtic Park and I can't wait to sample it for myself."
The three-year role itself comes as part of a PhD William will be undertaking with the University of the West of Scotland.
And he explained how his studies at Hope have set him up perfectly for the challenges ahead.
The Morecambe FC fan said: "I've loved being at Hope. The course was close-knit and the tutors were fantastic, too, which made for a great atmosphere.
"But the biggest thing for me was that we had a great deal of freedom to choose what we wanted to learn, and which independent research project we wanted to follow.
"I was able to work as an intern with Bury FC and Southport FC, thanks to the close links the University has with a host of Football League clubs.
"And it helped me a lot, particularly in terms of taking the GPS data of players from those teams and using it in my own research project."
Ultimately, William's thesis was titled, 'Quantification of in-season training load in lower league English soccer'.
And he added: "I'm just at the beginning of my career. But I aspire to continue working in elite football, and to develop as both a researcher and practitioner."
Find out more about our (MRes) in Sport and Exercise Science