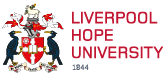 Campus tours
Our beautiful campuses and facilities are part of what makes Liverpool Hope such a vibrant community and encourage you to experience this through our campus tours. There are a number of ways you can acquaint yourself with our campuses:
Join us on a campus tour
Our tours of Hope Park and the Creative Campus are available now. Our student tour guides will be with you to answer any questions you have and to show you where students study, live and socialise on campus.
We offer pre-booked campus tours on Tuesdays and Fridays. To book your campus tour, please visit the link below.