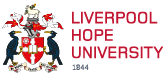 Campus tours
Our beautiful campuses and facilities are part of what makes Liverpool Hope such a vibrant community and encourage you to experience this through our campus tours. There are a number of ways you can acquaint yourself with our campuses:
Join us on a Covid-secure campus tour
Our tours of Hope Park and the Creative Campus will resume on 11 May 2021. Our student tour guides will be with you to answer any questions you have and to show you where students study, live and socialise on campus.
Due to current Government guidance, we are only offering pre-booked campus tours.
Book your Hope Park or Creative Campus tour
Experience a live virtual campus tour
We run live virtual tours once per week for both Hope Park and the Creative Campus.
The tours give you the opportunity to view our facilities and put any questions you may have to both our recruitment staff and student ambassadors.
Book here to join us on a virtual tour.
Watch our pre-recorded virtual campus tours
Click the videos below to preview our stunning campuses.
Hope Park
Creative Campus