There were graduates galore this week as Liverpool Hope University continued to celebrate its first week of graduation ceremonies since the beginning of the global pandemic.
The unpredictable weather couldn't put a dampener on the occasion as the Class of 2021 had their degrees conferred on them over three separate services at the city's Metropolitan Cathedral.
The Class of 2020 had enjoyed their own graduations earlier in the week.
And as Hope's successful graduates donned their caps and gowns in the Cathedral's Crypt, many were happy to share their incredible stories: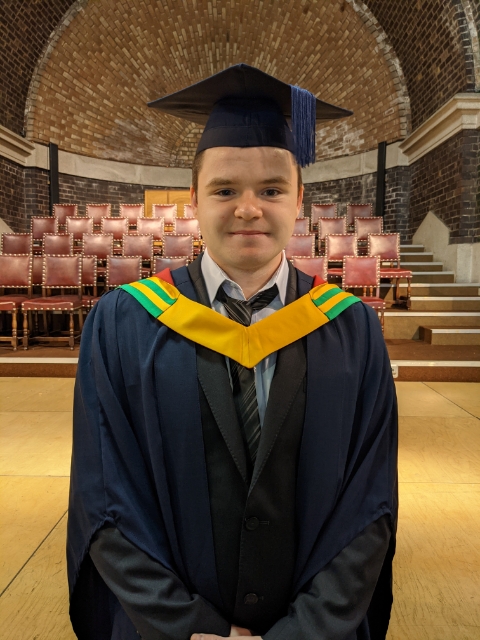 Jason Stocks (Management and Marketing, above))
Proud Jason is the first person from his family ever to graduate from university.
And Jason admits fate intervened somewhat to point him in the direction of Hope in the first place.
The 24-year-old had originally joined the military - but a bad injury which tore his knee ligaments while training forced him to go back to the drawing board.
Jason, from Norris Green, Liverpool explains: "I left Sixth Form and decided to join the military aged 19. Unfortunately, things didn't work out the way I intended as I hurt my knee pretty badly.
"We were doing a field drill that involved a crawling exercise and I didn't see a large rock lying in the way. I drove my knee right into… and that was it.
"As soon as I left, I made plans for a career in business instead."

Jason completed an Access course at this local college in Marketing before embarking on his degree at Hope.
Speaking about his time at Hope, Jason says: "The Covid lockdown was pretty tough but my whole three years at Hope was great and the support we got from our tutors never changed. Things might have moved online but the attention to detail never changed. I always felt at home here and I'm happy to be graduating now. I'm the first member of my family to graduate, so they're all here and really excited."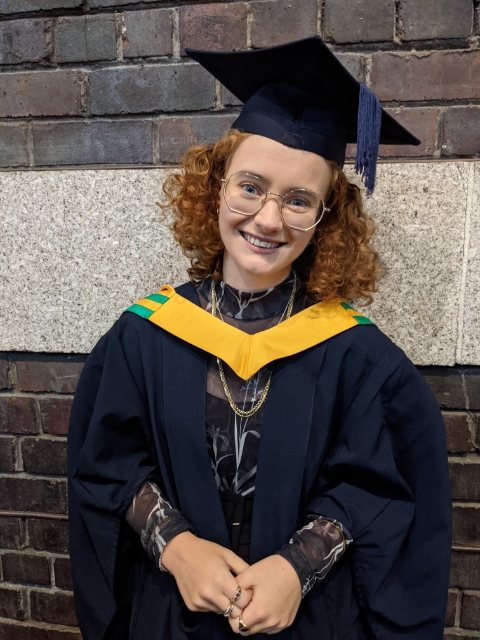 Eve Ronson (History and Politics, above)
This Hope graduate is committed to bringing about positive social change - and who has already put her skills to good use.
Talented Eve Ronson studied History and Politics and the 21-year-old has revealed how being at Hope helped her love of politics to bloom.
She's a youth ambassador for 'I Have a Voice', a social enterprise that empowers young people to engage with politics through education. As a representative for that organisation, she was also recently invited to contribute to an All-Party Parliamentary Group on Political Literacy.
At the meeting, Eve shared her experiences, arguing that a greater level of political education should be taking place in schools, rather than being left to universities.
Speaking to Chair Lord Iain McNicol, former General Secretary of the Labour Party, and Simon Fell, MP for Barrow & Furness, Eve said: "If we continue to rely on universities to provide political literacy, there will be a huge disparity in political education amongst young people."
And Eve says her time at Hope really gave her the confidence to speak so eloquently on such a major platform.
She reveals: "I have really enjoyed my time at Hope - so much so that I am returning to do a Master's in Social Policy this year.
"Even though we have had the challenges that have come through the Covid-19 pandemic and online learning, my time at Hope has given me a real chance to develop my confidence.
"And what I love about Hope in particular is that it's a smaller university, which enables us to get to know each other and our tutors, rather than being just a number.
"My History and Politics degree from Hope has already opened many opportunities for me, including my work as a youth ambassador for I Have a Voice UK. I am looking forward to returning to Hope - and would recommend it to anybody!"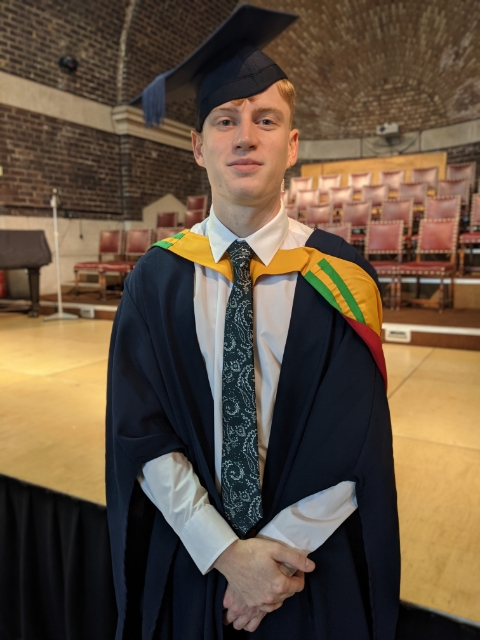 Daniel Humphrey (History and Politics, above)
The story of Daniel's graduation is a lesson in perseverance.
The 23 year old arrived in Liverpool from his native Belfast and admits he simply struggled to readjust to life in Merseyside.
Unable to get to grips with academic or social life, he was ultimately forced to re-sit two years of his study at Hope.
But Daniel refused to be beaten… and has just graduated with a prestigious first class honours degree and is now studying for a Master's in Public History.
He reveals: "I had a rocky start at Hope and actually failed my first two years and a lot of that was down to struggling to find my own two feet in a different country. It took me a while to find my focus and I ended up two years behind.
"In the end, I faced the difficult question, 'What am I doing here?' And from that point onwards I just got myself together and ultimately soared through. It was really tough but I was determined not to quit. And there were a lot of people around me telling me that I had a natural talent and passion for the subject matter. I knew I had to go for it."
Speaking about his time at Hope, Daniel reveals: "Looking back, I'm quite harsh on myself. But I'd urge anyone who might find themselves in a similar situation just to take care of themselves. And don't be afraid to reach out to people or to really immerse yourself in University life to make the most out of the experience."
Daniel now has his sights set on a career opening-up the exciting world of history to new audiences.
He adds: "I enjoy getting people into History, particularly young people who might not find History that accessible as it sits in the classroom."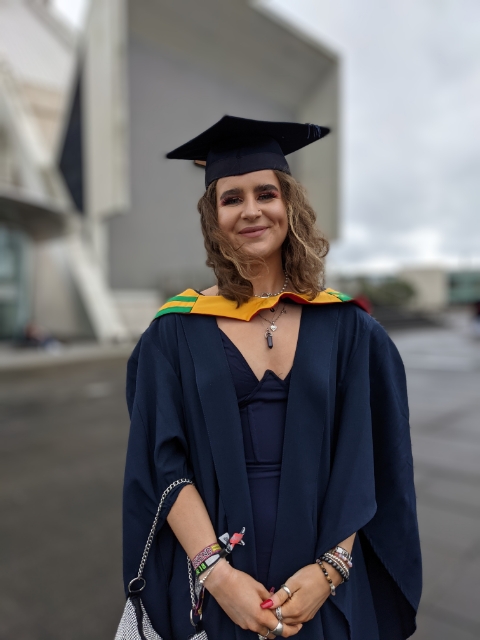 Aimee Dinwoodie (Creative Writing and History, above)
Aimee says studying a combined degree course at university won't just keep your career options open, it could also be the key to unlocking new friendship groups.
The 21-year-old has just graduated with a first class, combined honours degree in Creative Writing and History.
And she says that this support network was crucial, and adds: "Doing a combined course meant that I had two different sets of friends - ones doing Creative Writing and ones doing History - with really different interests.
"That, to me, was really important as it meant I always had someone to turn to. And I also had two sets of tutors, which meant I had even more access to support when I needed it.
"Studying through the pandemic, for example, was really tough. But I always felt like I had support from both the University and my peers. Even now, after I've left Hope, I feel like I could contact my tutors if I needed anything."
A combined honours course meant Aimee actually wrote two separate dissertations of 5,000 words each - something she relished.
Aimee says: "I had friends who got frustrated writing the longer, 10,000 word dissertations because they were so fixated on the one thing. For me, I enjoyed flitting between the two and I think it helped to keep things fresh."
Those dissertations, while different, ploughed similar furrows. Her Creative Writing project focused on the reputation of women in crime fiction, while her History dissertation lifted the lid on the roles of women during World War II, comparing the locations of Liverpool and her hometown Carlisle, Cumbria.
And Aimee clearly got a passion for the written word - as she's set to embark on a Master's in either creative writing or publishing.
She adds: "This is where my passion lies. I love history, but I know writing is where my heart lies. I'd love to enjoy a career in publishing, or in journalism, or to just make it as a writer.
"And I'm really excited about what the future holds."
As for her time at Hope, Aimee adds: "I had a fantastic time here. And I'd encourage any newcomers to put themselves out there and find their group of friends - their people.
"It's also really important that students find that balance between having fun and hard work.
"Once you find that fine line, you'll have an amazing time. I almost wish I'd appreciated my time at Hope more while I was there… because I already miss it so much now!"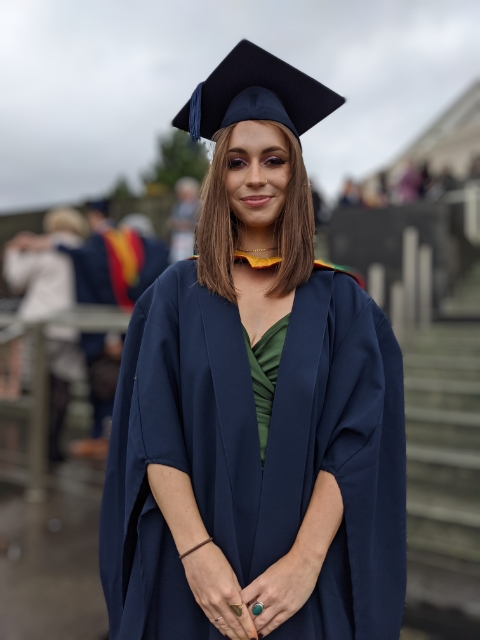 Christie Potts (English Literature and Philosophy & Ethics, above)
Small class sizes and a culture of debate helped this Christie to thrive, she has revealed.
Christie studied combined honours English Literature and Philosophy & Ethics at Hope, graduating with a first class degree.
And Christie, originally from Cockermouth, Cumbria, says Hope's commitment to ensuring tutors really get to know their students contributed to her success.
The 21-year-old explains: "I found that the subjects really complemented each other, and I could use elements of each discipline to contribute to my written work.
"I also found the small classes at Hope really allowed for good discussion and debate, which was particularly effective in the Philosophy & Ethics side of my course.
"The staff and tutors were also extremely helpful and quick to respond to any questions I had - this meant that last minute research project queries were resolved swiftly."
Christie ended up receiving a special certificate at her recent graduation, acknowledging her work in English Literature.
She adds: "Receiving this award has really helped with my confidence surrounding my academic abilities as I start a masters course in Religion and Literature at the University of Edinburgh.
"Studying at Hope has definitely encouraged me to further my academic career in both religious and literary subject areas, providing me with the skills to do so."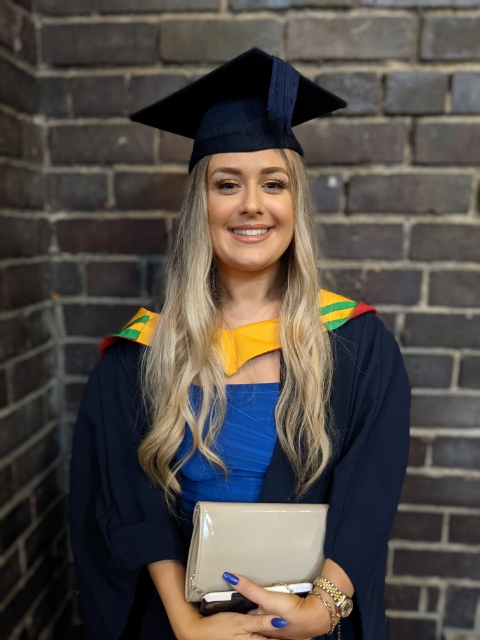 Chloe Nightingale (English Literature and English Language, above)
This talented graduate is sure to make headlines - because she's set for an exciting career in journalism.
Chloe 22, successfully completed a combined honours degree in English Literature and English Language.
And having always 'aimed high' during her time at Hope, she is determined to carve out a career in the high pressure world of court reporting and investigative crime journalism.
Chloe, originally from Jersey in the Channel Islands, reveals: "Throughout my life, I have always aimed high and wanted to achieve to the best of my ability.
"And being at Hope really allowed me to continue doing just that. I enjoyed every aspect of being at the University - the staff, the community, the facilities and of course my degree.
"During my time at Hope I learnt and developed my skills in English to such a standard that I felt confident to apply for a Master's to study Journalism.
"Without the support of my tutors at Hope I don't think I would've achieved as much as I did and if I could do it all again, I would in a heartbeat.
"My future plans are to finish my Masters in Journalism and eventually get into crime journalism, specifically newspaper article writing or court reporting."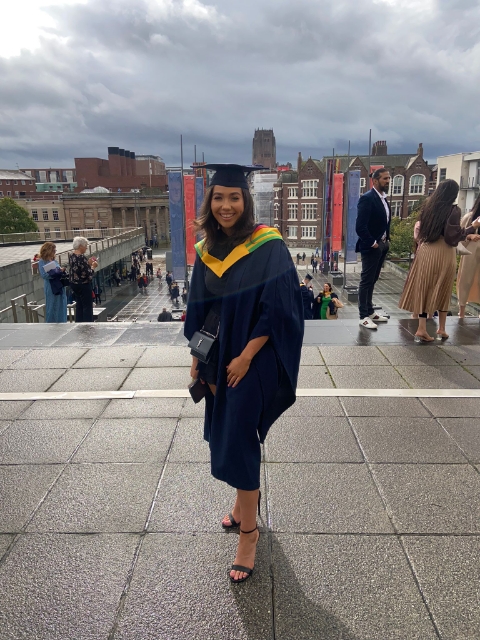 Ava Saidie (History, above)
Going to university is about so much more than just studying.
Graduate Ava Saidie says she relished her time playing for Liverpool Hope University's thriving Womens' football team.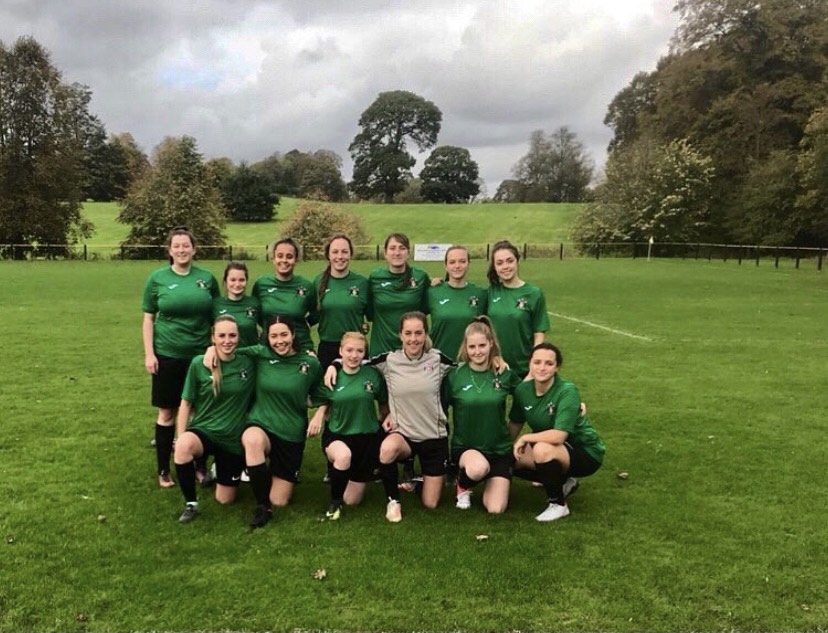 (Ava pictured bottom row, second from left)
And if soccer isn't your thing, worry not - because there's scores of different teams to get involved with, including a trophy-winning Gaelic football side and a highly-popular Cheerleading squad.
Ava, 22 years old and Liverpool, reveals: "I thoroughly enjoyed my time at Hope. My course covered a depth of topics and I believe this allowed me to fulfil my potential.
"My tutors were fantastic, approachable and had great knowledge.
"And outside of my course, I also joined the Women's football team, which was brilliant.
"The team were very friendly and welcoming, the fixtures took place at Hope and also away venues which was a great experience in getting to know the team.
"And, overall, the campus is stunning and was sorely missed during the various lockdowns."
Ava is now training to become a History teacher in secondary school, and says the education she got at Hope has prepared her for the future.
She reveals: "Even in the midst of a pandemic, the History department handled it brilliantly. Tutors were always an email or Zoom away. Our lectures online were as good as they could have been, with tutors going out of their way to provide us with extra knowledge on their video recordings and also including online resources for our assignments as we could not go on campus.
"And I am thankful for my time at Hope - which has led me down the path to becoming a teacher, allowing me to continue studying History and pass my knowledge onto others.
"My advice to students starting Hope would be to work hard and enjoy yourself - Liverpool is an unbelievable city and should be explored to the full."