Liverpool Hope University's 'Covid-19 Volunteering' team has raised thousands of pounds for those in need - and lifted spirits across the city.
As the initiative rests for the summer, the achievements of the group have been praised.
The project was formed in the early days of the Coronavirus pandemic lock-down, when it became apparent that many charities, organisations and individuals required help.
And since that point, staff from across the University have gone the extra mile to either secure donations or to step in themselves, from making PPE to ensuring surplus food reached those who needed it.
In total, £3,650 in total was taken in donations through Hope's online portal.
Here's a round-up of some of the work that took place:
Free hand cream for NHS nurses:
Spearheaded by Hope's Fiona Hough, from External Relations, and Data Analyst Lisa Mottram, this initiative focused on supplying free hand cream to NHS frontline workers.
Through a unique partnership with Body Shop at Home, some 1,014 products made their way to a host of hospital wards, including the Royal Liverpool University Hospital's A&E and ITU wards, Liverpool Women's Hospital's Covid ward, and Alder Hey Children's Hospital.
Lisa says: "Thank you to Fiona Hough in External Relations for the fantastic idea and a massive thank you to everyone who helped make this possible."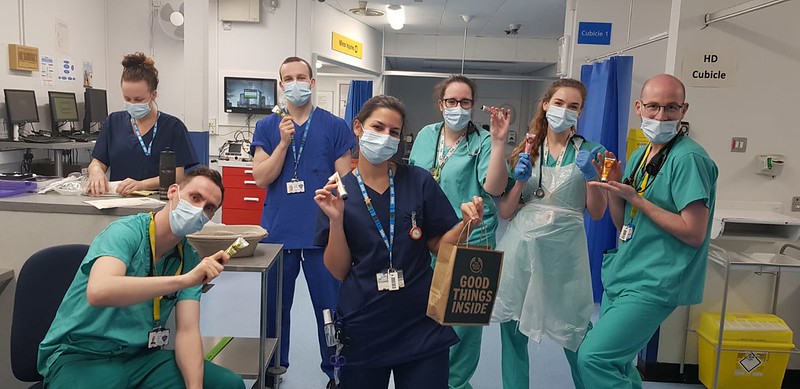 Supporting Domestic Violence Victims:
During May, Hope began fundraising to help a domestic abuse charity - after it reported a surge in enquiries due to the Covid-19 lockdown.
Signa Awareness is a non-profit social enterprise which was formed in 2018 by founder Maureen Harris, a social worker with a background in safeguarding. It offers interventions for both victims and perpetrators, finds safe 'escape routes' for those at risk, and is even working with teenagers to help eradicate generational patterns of abuse and change culture.
And Signa Awareness and Hope worked together to provide free essentials, like toiletries, to victims fleeing domestic abuse.
Maureen said: "I'm extremely grateful to Liverpool Hope University for organising this initiative. It's telling victims across the city that we're here for them for anything - and that they matter."
Food donations:
At the end of May, Hope's Catering Manager Gary Pace pointed to a large amount of stock in the shop on campus that was due to reach its expiry date.
The team identified three charities that would benefit from this stock and John Berry and Mark Guy, from Campus Services, arranged for donations to be delivered to the food bank supported by Everton in the Community, Ronald McDonald House at Alder Hey Children's Hospital and the Marie Curie Hospice in Woolton.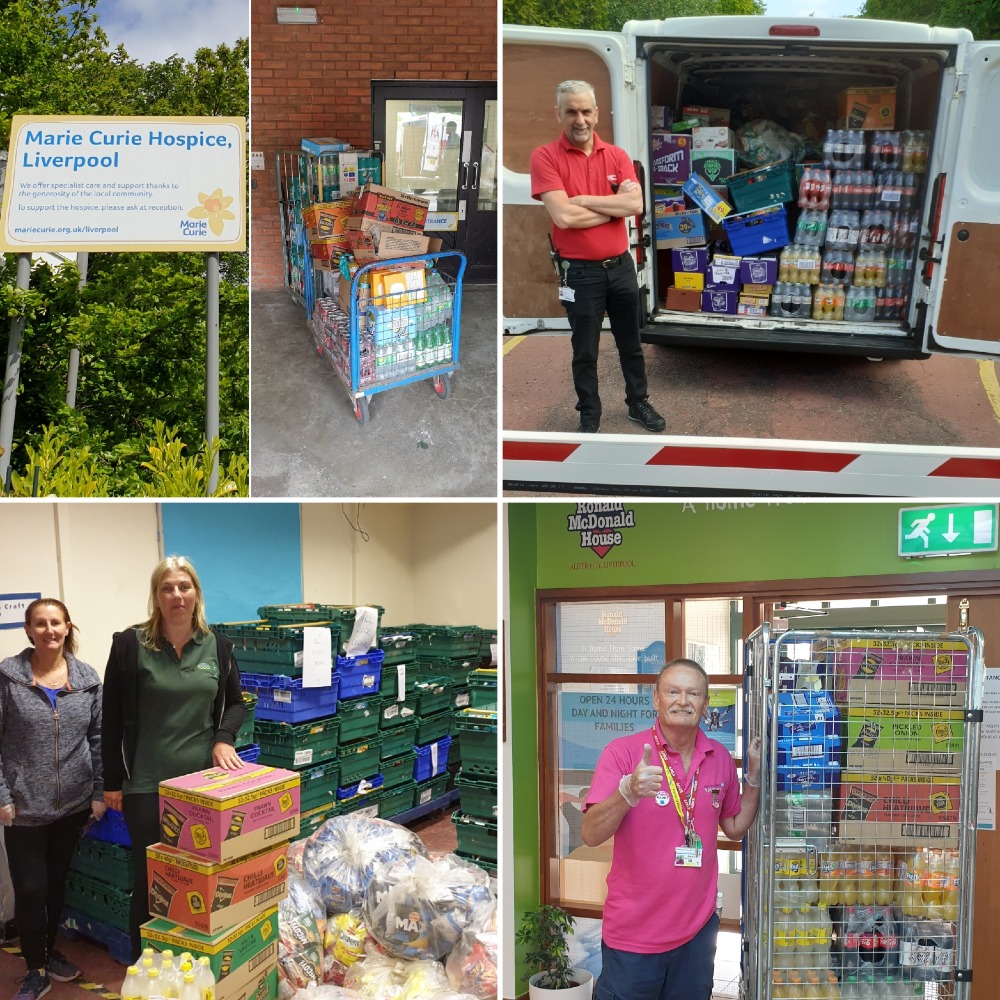 PPE to Hospital Trusts:
Hope was able to ship thousands of items of crucial Personal protective equipment (PPE) to hospitals in the city.
The PPE was sourced from the University's School of Health Sciences laboratories and comprised some 16,000 pairs of gloves.
They were sent to the Liverpool University Hospitals Foundation Trust - which oversees The Royal, Aintree and Broadgreen hospitals - amid mounting concerns of shortages among NHS staff.
The University's Professor Michael Lavalette, Head of the School of Social Sciences, said: "It's a small gesture from us, but one we hope signals solidarity in this time of crisis."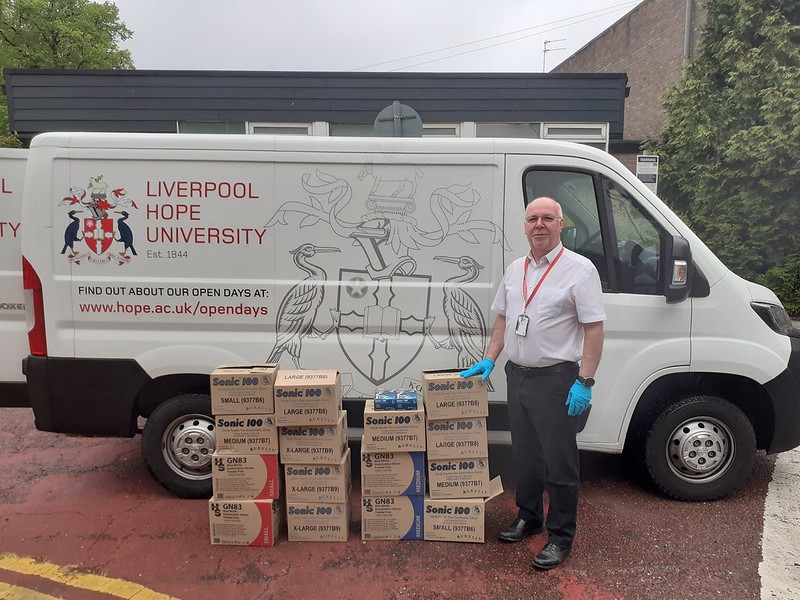 Laser Cutting PPE:
Associate Professor Richard Hooper, lecturer in Fine Art, Design and Film and Visual Culture at Hope, used a laser cutting machine in the 'FABLAB' at Hope's city centre Creative Campus to help create PPE.
The project was a collaboration between Hope and St Hilda's CE High School, Sefton Park, with Associate Professor Hooper using the cutter to craft plastic headbands to which clear visors could then be fitted.
He adds: "We were approached by St Hilda's and asked whether the machine could be used to make PPE - and we obviously jumped at the chance."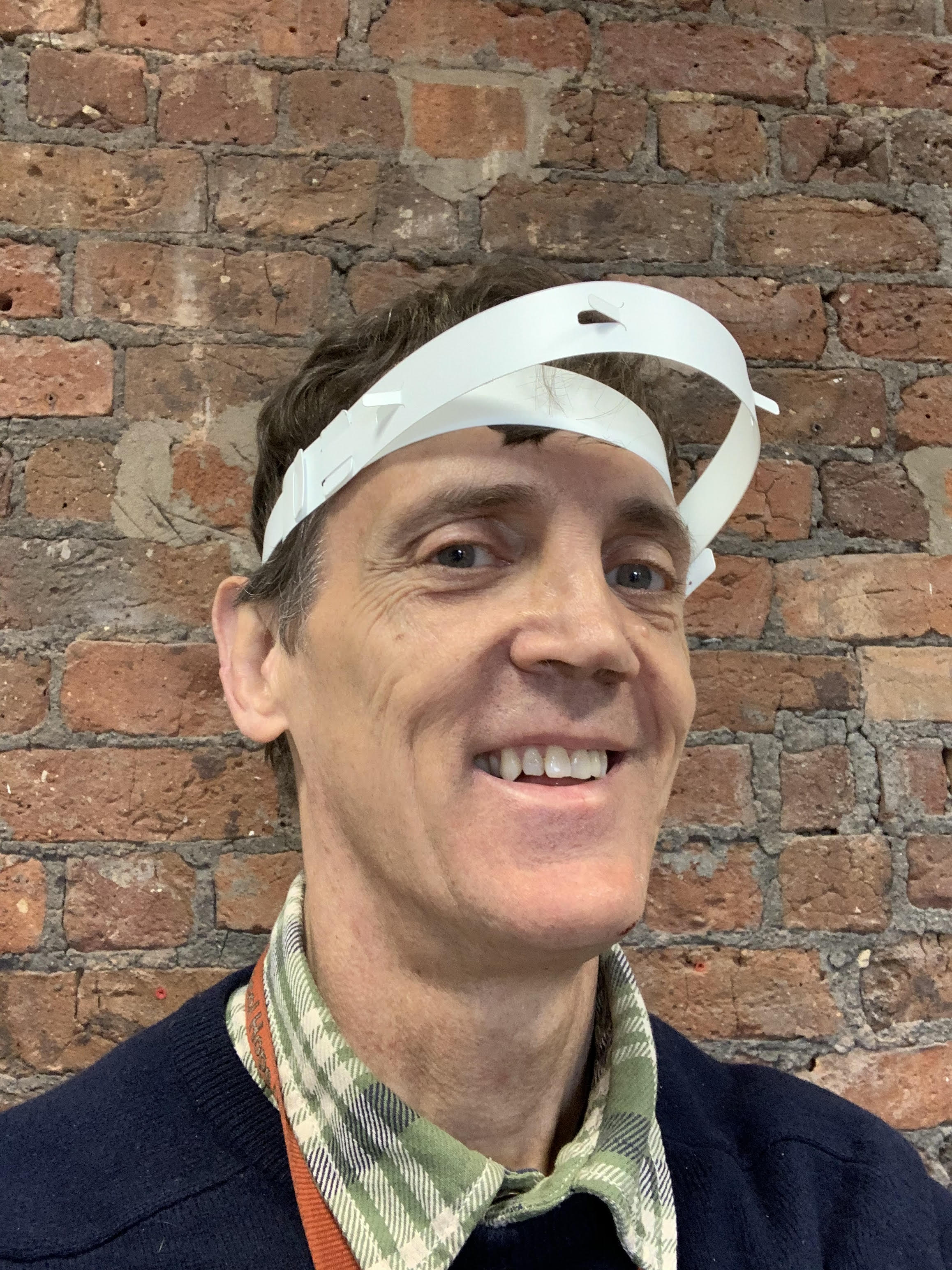 Ear Savers for the NHS:
Frontline NHS workers forced to wear virus-repelling face masks began reporting how the items were chafing the skin, particularly around the ears.
Hope's Catherine Harvey, Director of Student Enrolment, and Annmarie Lowther, HR Manager, came up with a novel solution - knitting woolen 'sore ear savers' so that face masks could be fastened behind the head rather than around the ears, reducing discomfort.
Catherine said: "It's a small gesture on my part, but my little supply of ear savers has now gone to wards in Alder Hey, Whiston, and Walton Neurological hospitals, as well as my local district nurses. And, for me, it embodies what the Hope community spirit is all about."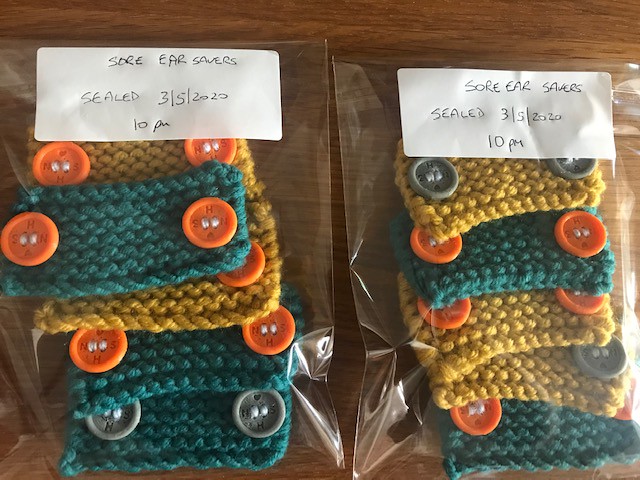 Face Masks for the NHS:
Personnel's Lisa Mottram also showed off her stitching skills to help others, creating dozens of cotton face masks for the NHS.
What began as a project purely for family and friends, Lisa's masks eventually made their way to the Special Feeds Unit at Birmingham Children's Hospital and the Oak Vale Medical Centre, Childwall.
Lisa adds: "They were all made for free - and many recipients have chosen to make charitable donations in return."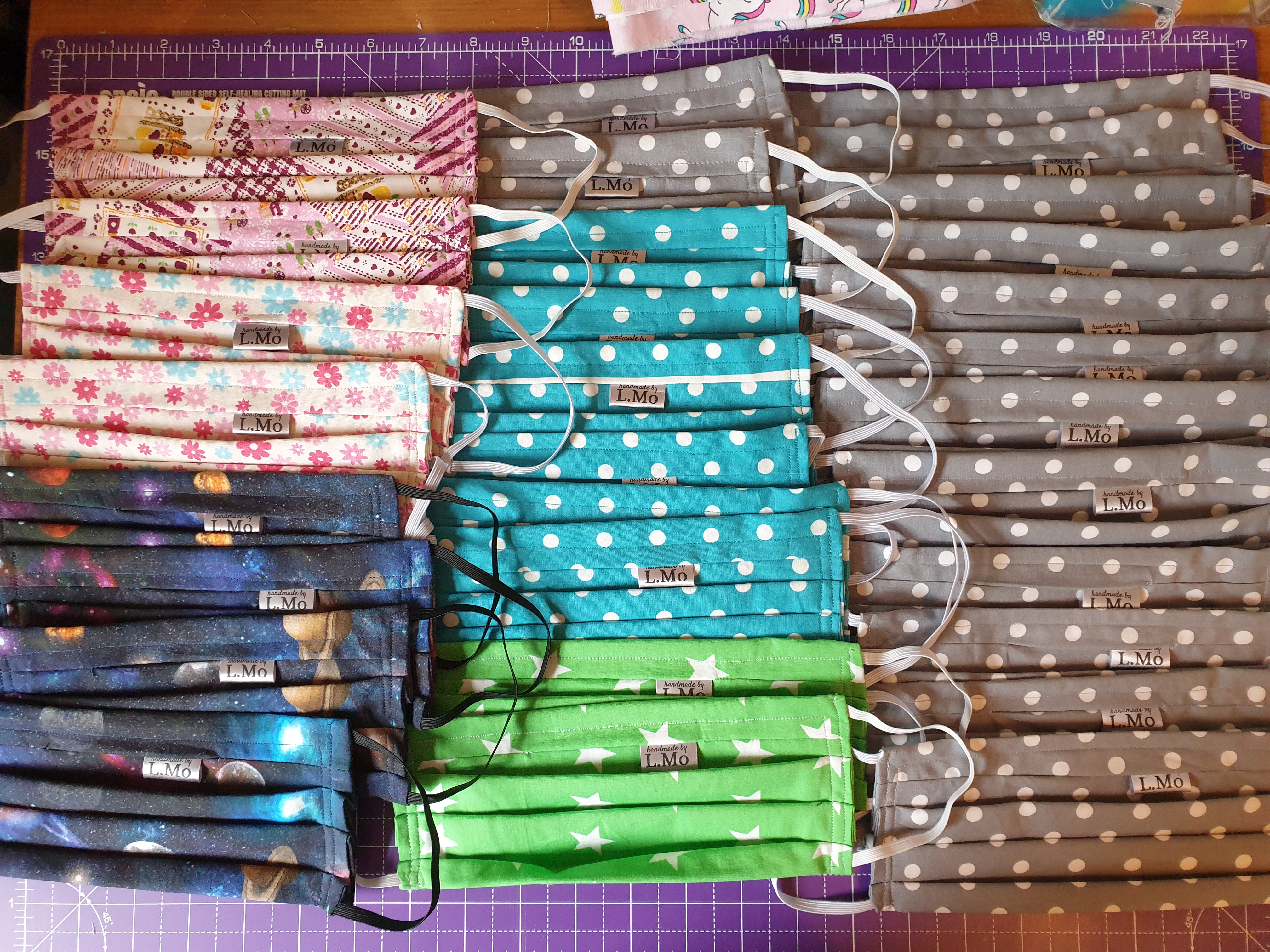 Caring for Vulnerable Alumni:
Hope recognised that many of its alumni might be feeling vulnerable and isolated because of the Coronavirus pandemic. In response, a team of staff spent time calling these individuals as part of a 'Check In and Chat' initiative, reaching-out to offer support and to ask whether any of them needed assistance in any way.
Dr Carly Bagelman, Lecturer in Education Studies, spoke of a 'great web of relations extending from Hope, and added: "'We are calling to say hello and see if there's any support we might be able to give you', I tell them. They express some of the hardships this virus has caused - chiefly, feelings of isolation. While I have been feeling hemmed in with long days indoors punctuated by brief walks or bike rides, I am reminded just how differently we are experiencing lockdown: some immunocompromised alumni explain they have not been able to leave their homes for a walk or errand since early March.
"One alumnus was unreachable because she had her phone providers screen calls to prevent scammers. This had me considering the other levels of vulnerability (beyond health) that elderly communities experience, and how such protection measures can unfortunately stand in the way of connection at a time when it is so needed."
** The Covid-19 Volunteering team would like to take the opportunity to thank all of those staff and students that have come forward to help our initiatives during these unprecedented times. There has been a lot of work going on to help the local community and the NHS. Thank you to the following:
John Berry and Mark Guy of Campus Services for delivering our PPE and Food donations across the city

Fiona Hough for our successful hand cream fundraiser and links with the hospitals

Jamie Maguire and Claudia McClean for setting up our online store and managing the payments for our fundraisers

Gary Pace for sorting out food to be donated

Omid Khaiyat and Marc Wells for sorting PPE to be donated

Carly Bagelman, Claire Penketh, Marie-Therese Lacey, Liz Mitchum, Suzanne Jamieson, Dave Merryweather and Amy Wain for calling our potentially vulnerable alumni to see if they needed any support

Clare Baker for identifying our potentially vulnerable alumni and compiling the data for us to make contact

Richard Hooper for assisting St Hilda's and printing parts for PPE Visors

Andy Foulkes in Maths for making the link with St Hilda's to use our equipment for the production of PPE

Laura Gittins for organising the risk assessments for the PPE production work to be conducted safely.

Creative Campus for allowing the use of the laser cutter for the production of PPE parts

Rose Devereux for organising our Signa donations

Neil Goodwin for reporting all our efforts

Catherine Harvey and Annmarie Lowther for making ear savers for workers needing some relief from wearing their masks all day

Lisa Mottram for coordinating our initiatives, making ear savers and making reusable masks for NHS, care home workers and fellow Hope staff.

Social Work students who have helped with many different initiatives to support those who needed it

Everyone who generously donated to our fundraisers
The Volunteering team are now taking a break over the summer and we will reconvene in the new term. In the meantime if you have any ideas for us or if you want to let us know what you have been doing please email us at covid19volunteering@hope.ac.uk.